Grindelia acutifolia (Not NMRPTC Rare)
(Raton gumweed)
[taxon report]
[distribution map]
[all photos]
[line drawing]
---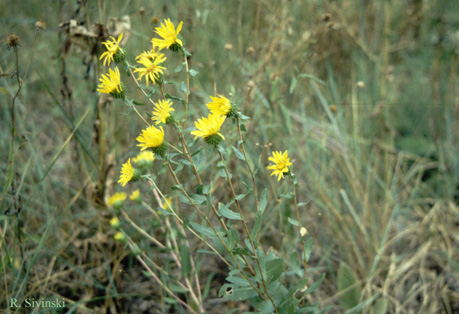 ---
Family: Asteraceae
Scientific Name: Grindelia acutifolia Steyermark
Synonyms: Grindelia acutifolia Steyermark is now a synonym of Grindelia hirsutula Hooker & Arnott
Vernacular Name: Raton gumweed
R-E-D Code: 2-1-2
Description: Herbaceous biennial; stems corymbosely branched above with spreading-ascending branchlets, buff, stramineous, or reddish-purple, glabrous, 4-8 dm tall; leaves 2-8 cm long, firmly membranaceous, light grass- or olive-green, saliently and sharply dentate or serrate with acute to setulose-acuminate teeth or sometimes the uppermost entire, the main, middle, and lower stem leaves oblong or oblanceolate to lanceolate or ovate-lanceolate, the upper strongly subamplexicaul; heads radiate, 2.5-3.5 cm broad; disk campanulate hemispherical; involucre moderately resinous, 5-6 seriate, the upper fourth to half of the bracts strongly revolute, terete and thickened; receptacle conspicuously foveolate; rays 18-25, the lamina about 9-11 mm long; achenes oblong, 4-5 mm long, 1-5 mm broad, stramineous or light brown, slightly striate on faces, horizontally truncate at apex; awns 2-3, about as long as the achene. Flowers July and August.
Similar Species: Grindelia acutifolia has been mistaken for G. subalpina from the Rocky Mountains in Wyoming and Colorado. Grindelia acutifolia can be distinguished by the presence of 2-3 pappus awns on the disk florets versus 4-8 on G. subalpina.
---
Distribution: New Mexico, Colfax County, Raton Mesa area; adjacent Colorado, Las Animas County.
Habitat: Dry slopes, open ground, roadsides in montane coniferous forest down to shortgrass praire; 2,070-2,680 m (6,800-8,800 ft).
Remarks: Grindelia acutifolia is a synonym of G. hirsutula in Flora of North America, Vol. 20 (2006). The discussion in FNA under G. hirsutula states, "As circumscribed here, Grindelia hirsutula includes 30 or more reputedly distinct, local, regional, or ecotypic facies that have been named at species or infraspecific rank. Locally, such facies are easily recognized; in a broad view, they intergrade with other facies and are parts of a heterogeneous continuum. Taxonomies that have attempted to recognize the facies as distinct 'taxa' have led to almost as many specimens determined as 'intermediate' as are assigned to the named 'taxa'." The NMRPTC accepts this taxonomic treatment.
Conservation Considerations: Raton gumweed inhabits disturbed, anthropogenic habitats and is not threatened by current land uses.
Important Literature (*Illustration):
*Steyermark, J. 1934. Studies in Grindelia. II. A monograph of the North American species of the genus Grindelia. Annals of the Missouri Botanical Garden 21:498-499.
Flora of North America Editorial Committee. 2006. Flora of North America, volume 20. Oxford University Press, New York.
Information Compiled By: Timothy K. Lowrey, 1999; last updated 2007
Agency Status: