Grindelia arizonica var. neomexicana
(New Mexico gumweed)
[taxon report]
[distribution map]
[all photos]
[line drawing]
---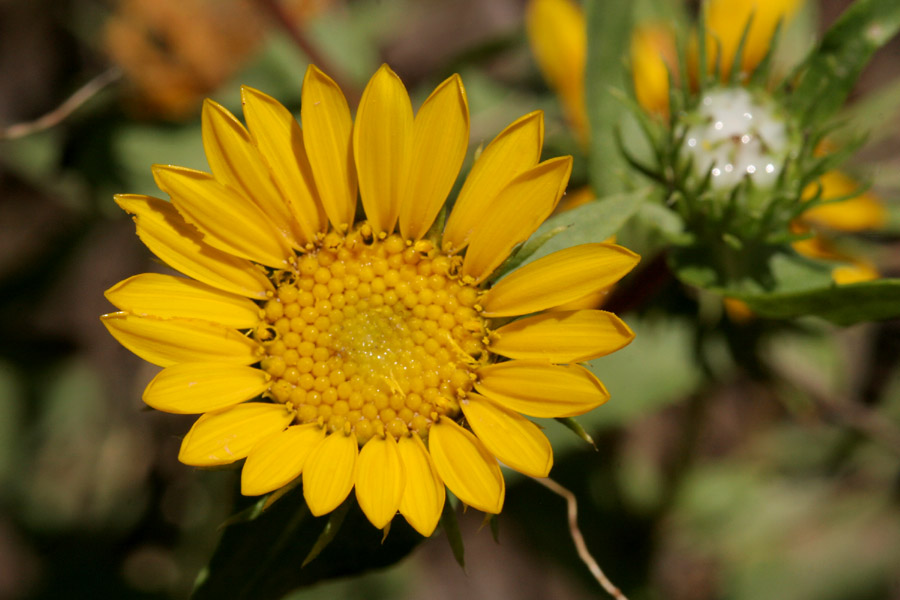 ---
Family: Asteraceae
Scientific Name: Grindelia arizonica var. neomexicana (Wooton & Standley) Nesom
Synonyms: Grindelia neomexicana Wooton & Standley; Grindelia scabra E. Greene var. neomexicana (Wooton & Standley) Steyermark
Vernacular Name: New Mexico gumweed
R-E-D Code: 2-1-3
Description: Annual or biennial; stems 1-4 from an herbaceous base, loosely corymbosely branched, mostly suffused with reddish-purple, 2-7 dm tall; leaves rather thin, dull green, denticulate to coarsely dentate, ovoid-oblong to lanceolate, usually subamplexicaul except the basal leaves; heads radiate, 2.5-4 cm broad; phyllaries 6-11 mm long, loosely erect, ascending or spreading, the outer elongated usually about equaling the height of the disk, linear with mostly filiform-subulate tips; rays 17-30, the lamina 12-15 mm long; achenes oblong 2.5-3 mm long, light brown, smooth to slightly striate; pappus awns 2-4, with ciliolate-scabrous margins, 3-5 mm long. Flowers late July to September.
Similar Species: Nesom (1990) considers Grindelia arizonica in its broad sense to be related to G. havardii of western Texas and southeastern New Mexico, but the latter has gland-tipped foliar teeth, hirtellous leaf surfaces, and perennial habit. Grindelia arizonica var. neomexicana is distinguished from G. arizonica var. arizonica by its linear (versus subulate) outer phyllaries that are erect to slightly spreading (versus spreading to slightly reflexed).
---
Distribution: New Mexico, Grant and Sierra counties, Pinos Altos Range, Black Range, and Mimbres Mountains.
Habitat: Rocky slopes and ledges in piñon-juniper woodland and lower montane coniferous forest; 2,000-2,300 m (6,500-7,500 ft).
Remarks: This variety appears narrowly restricted to montane habitats in Grant and Sierra counties, but it should be looked for in montane habitats in adjacent counties.
In Flora of North America, Volume 20 (2006), all the varieties of Grindelia arizonica were submerged into a single variable species without recognition of subspecific taxa. The NMRPTC notes the subjectivity involved in taxonomic decisions within this complex and will continue to consider G. arizonica var. neomexicana to be a distinct entity. In discussions at the 2007 New Mexico Rare Plant Technical Council Meeting, Council members concluded that G. arizonica var. neomexicana represents a population of plants that is geographically defined and sufficiently distinct from other closely related populations that it deserves taxonomic recognition.
Conservation Considerations: Additional field searches are needed to determine the rarity and assess the conservation needs of this variety.
Important Literature (*Illustration):
Nesom, G. 1990. Systematics of Mexican and Texas Grindelia. Phytologia 68:303-332.
Steyermark, J. 1934. Studies in Grindelia II: A monograph of the North American species of the genus Grindelia. Annals of the Missouri Botanical Garden 21:510-511.
Wooton, E.O. and P.C. Standley. 1913. Descriptions of new plants preliminary to a report upon the flora of New Mexico. Contributions from the U.S. National Herbarium 16:109-196.
Flora of North America Editorial Committee. 2006. Flora of North America, volume 20. Oxford University Press, New York.
Information Compiled By: Timothy K. Lowrey, 1999; last updated 2007
Agency Status: