Amsonia tharpii
(Tharp's blue-star)
[taxon report]
[distribution map]
[all photos]
[line drawing]
---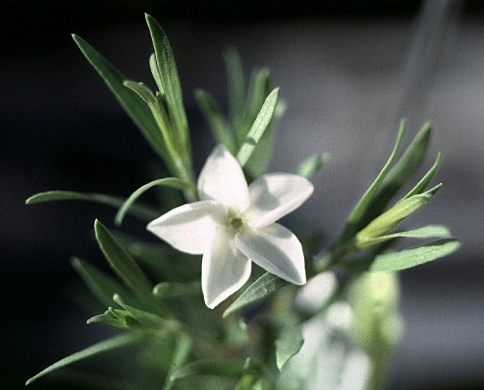 ---
Family: Apocynaceae
Scientific Name: Amsonia tharpii Woodson
Synonyms: None
Vernacular Name: Tharp's blue-star
R-E-D Code: 2-2-2
Description: Perennial suffrutescent herb; stems from a woody rootstock, up to 2 dm tall; leaves subsessile, crowded, up to 5 cm long and 12 mm wide, those on the lower half of the stem elliptic-lanceolate and those above linear to linear-lanceolate; flowers pale-blue or greenish-white, salverform, the tube about 15 mm long and constricted at orifice; fruit two short, thick follicles, glabrous, 25-35 mm long. Flowers April to May.
Similar Species: Tharp's blue-star is the only Amsonia in this region with dimorphic leaves. Amsonia longiflora is sympatric but distinguished by its narrow lower stem leaves and longer (25-45 mm) fragrant flowers.
---
Distribution: New Mexico, Eddy County; Texas, Pecos County.
Habitat: Limestone and gypsum hills in Chihuahuan desert scrub communities; 900-1,150 m (3,100-3,500 ft).
Remarks: Only three populations of this plant are presently known in New Mexico. One is quite small (less than 100 plants) and the others contain a few thousand individuals.
Conservation Considerations: There is active gas development in the vicinity of two of the New Mexico populations. More botanical surveys need to be conducted on lands between the New Mexico and Texas populations to determine the presence and abundance of the species in this region.
Important Literature (*Illustration):
Correll, D.S., M.C. Johnston and collaborators. 1979. Manual of the vascular plants of Texas (2nd printing). Texas Research Foundation, Renner (2nd printing by University of Texas at Dallas, Richardson).
McLaughlin, S.P. 1982. A revision of the southwestern species of Amsonia (Apocynaceae). Annals of the Missouri Botanical Garden 69:336-350.
Information Compiled By: Ken Heil, Joey Herring, 1999
Agency Status: