Heuchera wootonii
(Wooton's alumroot)
[taxon report]
[distribution map]
[all photos]
[line drawing]
---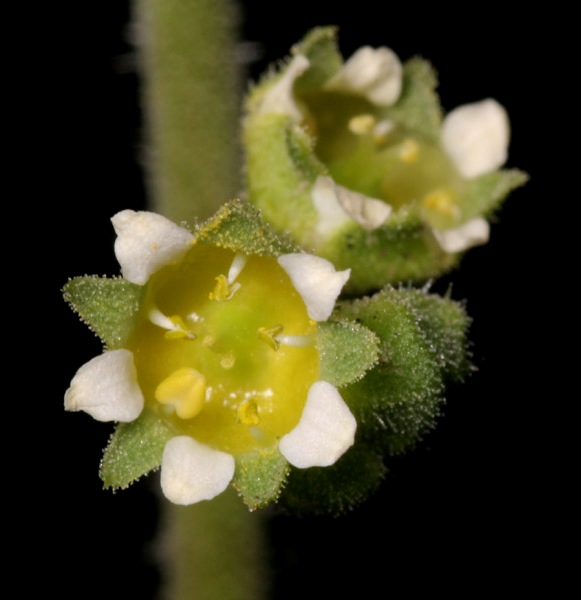 ---
Family: Saxifragaceae
Scientific Name: Heuchera wootonii Rydberg
Synonyms: None
Vernacular Name: Wooton's alumroot
R-E-D Code: 1-1-3
Description: Perennial herb, with thick rhizomes; leaves in basal clusters, broadly oval to rotund, cordate, palmately lobed, petioles usually longer than the blades and clothed with stiff hairs; inflorescence a scapose raceme; hypanthium (tube of united sepals and petals) shallow, saucer-shaped, 3-5 mm long; calyx 5-lobed, greenish, with stiff hairs; petals spatulate, white, longer than calyx lobes; stamens 5, much shorter than the calyx lobes; stigmas 2. Flowers June to September.
Similar Species: Heuchera wootonii is the only white-flowered species in the White Mountains. It is one of five New Mexican alumroots with whitish or greenish flowers and stamens shorter than the calyx lobes. The most obvious feature distinguishing H. wootonii from H. parvifolia are the stiff, spreading hairs of the leaf petioles of the former. Heuchera glomerulata, H. woodsiaphila, and H. novomexicana also have hairy petioles, but they have more deeply campanulate hypanthia. The hypanthium apex of H. wootonii is shallow and saucer-shaped.
---
Distribution: New Mexico, Lincoln and Otero counties in the White and Sacramento mountains and Catron County in the Datil Mountains.
Habitat: Mountain slopes and protected, usually north-facing rock outcrops, or Gamble oak thickets in piñon-juniper woodland and lower and upper montane coniferous forest; 2,150-3,650 m (7,000-12,000 ft).
Remarks: The disjunct distribution of this rare species is very unusual. Further systematic study may show this taxon to be a southern variation of Heuchera parvifolia.
Conservation Considerations: The distribution, abundance and habitat requirements of this plant need additional study. Its response to forest fire and other forms of disturbance have not been studied.
Important Literature (*Illustration):
*New Mexico Native Plants Protection Advisory Committee. 1984. A handbook of rare and endemic plants of New Mexico. University of New Mexico Press, Albuquerque.
Rosendahl, C.O., F.K. Butters and O. Lakela. 1936. A monograph on the genus Heuchera. University of Minnesota Press, Minneapolis.
Information Compiled By: Denis M. Kearns, 1999
Agency Status: