Hexalectris nitida
(Shining crested coralroot, Glass Mountain crested coralroot)
[taxon report]
[distribution map]
[all photos]
[line drawing]
---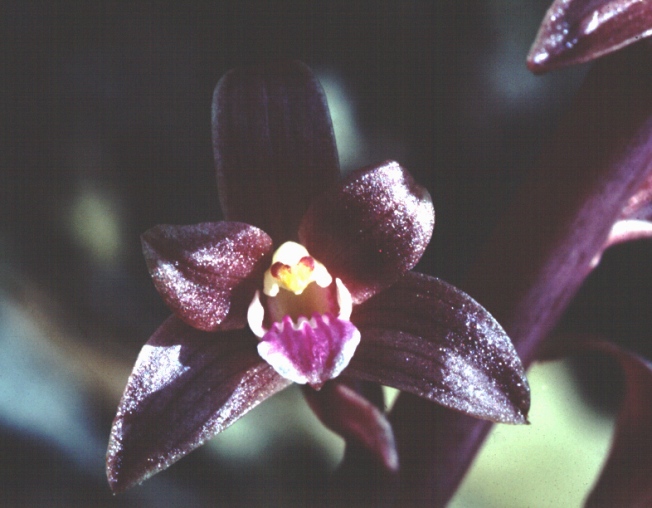 ---
Family: Orchidaceae
Scientific Name: Hexalectris nitida L.0. Williams
Synonyms: None
Vernacular Name: Shining crested coralroot, Glass Mountain crested coralroot
R-E-D Code: 2-1-2
Description: Plant saprophytic; stems reddish-purple, leafless except for a few widely spaced bracts, glabrous, up to 30 cm tall; inflorescence loosely to densely flowered, with up to 20 small, shiny flowers; sepals and petals pinkish-brown, parallel veins darker; sepals oblong, spreading, 11 mm long, 4 mm wide; lateral petals somewhat oblanceolate, asymmetric, 10 mm long, 4 mm wide; lip obovate, 10 mm long, 6.5 mm wide, shallowly 3-lobed, lateral lobes white, rounded, incurved, 2 mm wide, middle lobe bright purple, undulate, 4 mm wide, the disk with 5 longitudinal crests; column white, curved, narrowly winged, 8 mm long; stigma vestigial; ovary pedicillate, about 15 mm long; capsule pendant, ellipsoid, 1.5 cm long, 0.5 cm wide. Flowers late summer.
Similar Species: Hexalectris nitida also has an autogamous phase, but its lip of only 10 mm long is shorter than the 12-15 mm lip of H. arizonica. Corallorhiza may be confused with this genus, buts its lip has no longitudinal crests as in Hexalectris.
---
Distribution: New Mexico, Eddy and Otero counties, Guadalupe and Cornudas mountains; Texas, central and southwestern; Mexico, widely scattered to as far south as Oaxaca.
Habitat: Deep canyons in leaf litter under oaks; 1,300 m (4,300 ft) at Eddy County location.
Remarks: Widely scattered in very small colonies. Only one site in New Mexico is documented with a collected specimen. The observation from the Cornudas Mountains was in suitable oak thicket habitat, but no specimen was collected to confirm the identification. Liggio and Liggio (1999) do not record the species from New Mexico. Plants may not bloom every year.
Conservation Considerations: Populations are small and can be easily obliterated by human activity. Documented records are needed to develop the geographic range of this species in New Mexico, but collections must be made judiciously and without digging the rhizome system.
Important Literature (*Illustration):
Johnston, I.M. 1944. Plants of Coahuila, eastern Chihuahua, and adjoining Zacatecas and Durango, III (Orchidaceae, pp. 81-83). Journal of the Arnold Arboretum 25:43-83.
*Liggio, J. and A.O. Liggio. 1999. Wild orchids of Texas. University of Texas Press, Austin.
*Luer, C.A. 1975. The native orchids of the United States and Canada. New York Botanical Garden, Bronx.
Kennedy, A.H. and L.E. Watson. 2010. Species delimitations and phylogenetic relationships within the fully myco-heterotrophic Hexalectris (Orchidaceae). Systematic Botany 35(1):64-76.
Information Compiled By: Richard Spellenberg, Tom Todsen, 2000; last updated, 2011
Agency Status: