Pediocactus knowltonii (Knowlton cactus)
Synonyms
PEDIOCACTUS BRADYI L. BENSON VAR. KNOWLTONII BACKEBERG [COMB. ILLEG.]
Common Name
Knowlton cactus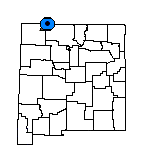 Description
Stems 1.0-2.5 cm in diameter, solitary or a few in a cluster, barely protruding above ground level; tubercles not grooved; spines about 20 per areole, all radials, radiating from areole and appressed to the plant, 1-2 mm long, usually whitish, pinkish, or brownish and darkest at tip; flowers 1.5-2.5 cm across, fragrant, borne from previous years areoles near apex of plant, tepals white to magenta, usually pink, stigmata yellowish or pale green, ovary with few tiny papery scales; fruit barrel-shaped, fleshy, not juicy, dehiscing by circumscissile split at top and one or more vertical splits; seeds dark gray, 1.5-2.0 mm long, teardrop-shaped with low nearly flat tubercles, hilum sublateral and with a whitish strophiole. Flowers April and May.
Similar Species
Could be confused with some species of Escobaria, but it differs in having no groove on tubercles, ovary and fruit with scales, fruit dehiscent, and seeds larger and not pitted. Closely related to P. simpsonii, but it is separable by recurved appressed radial spines with no central spines; some juveniles of P. simpsonii lack central spines and are nearly identical. Other similar species occur in Arizona and Utah, but not in New Mexico.
Distribution
New Mexico, San Juan County, near the Los Pinos River.
Habitat
On rolling, gravelly hills in a pinion-juniper-sagebrush community at about 1,900 m (6,200-6,300 ft).
Remarks
This species is known only from the type locality. Pediocactus is a small genus of only seven species. Only P. simpsonii is wide ranging and common; the other six are narrow endemics, all of which are federally listed (P. bradyi, P. despainii, P. knowltonii, P. peeblesianus ssp. peeblesianus, P. peeblesianus ssp.fickeiseniorum and P. sileri .
Various sources include Colorado in the distribution of this species, largely because the type locality is very near the NM/CO border. But, no documenting specimens from Colorado exist. The Bureau of Land Management constructed a new fence on the true NM/CO border about 40 m north of the old fence. In 2008, Bob Sivinski who has monitored plants at the type locality for many years, did a thorough survey on both sides of the fence but did not find it on the Colorado side.
Conservation Considerations
This species was heavily collected after its initial discovery and is still popular in the cactus trade. It occurs in an area of intensive oil and gas development. The type locality appears to be in decline. The type locality is privately owned and managed as a Nature Conservancy preserve. Efforts are underway to establish two introduced populations, but success is uncertain.
Important Literature
*New Mexico Native Plants Protection Advisory Committee. 1984. A handbook of rare and endemic plants of New Mexico. University of New Mexico Press, Albuquerque.
*Benson, L. 1982. The cacti of the United States and Canada. Stanford University Press, Stanford, California.
Benson, L. 1960. A new Pediocactus. Cactus and Succulent Journal (U.S.) 32(6):193.
*Benson, L. 1961. A revision and amplification of Pediocactus, I. Cactus and Succulent Journal (U.S.) 33:49-54.
Benson, L. 1962. A revision and amplification of Pediocactus, II-IV. Cactus and Succulent Journal (US) 34:17-19, 57-61, 163-168.
*Heil, K., B. Armstrong and D. Schleser. 1981. A review of the genus Pediocactus. Cactus and Succulent Journal (U.S.) 53:17-39.
*U.S. Fish and Wildlife Service. 1985. Knowlton cactus (Pediocactus knowltonii) recovery plan. U.S. Fish and Wildlife Service, New Mexico Ecological Services Field Office, Albuquerque.
Roth, D. 2020. Pediocactus knowltonii (Knowlton's cactus) summary report. Section 6, Segment 34. Unpublished report prepared by EMNRD - Forestry Division, Santa Fe, NM, for the U.S. Fish & Wildlife Service, Region 2, Albuquerque, NM.http://www.emnrd.state.nm.us/SFD/ForestMgt/endangeredandrareplantreports.html
Information Compiled By
Charlie McDonald, David J. Ferguson 1999. Updated 2021.
For distribution maps and more information, visit Natural Heritage New Mexico