Penstemon linarioides ssp. maguirei (Maguire's beardtongue)
Synonyms
PENSTEMON LINARIOIDES A. GRAY VAR. MAGUIREI (KECK) A. NELSON
Common Name
Maguire's beardtongue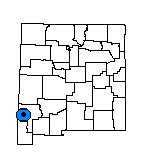 Description
Plants perennial, mat-forming; stems 1-5 dm tall, tufted, leafy, pubescent; leaves oblanceolate, 2-4 mm wide (possibly with flattened, scale-like, appressed hairs); inflorescence glandular; corolla (probably) blue-lavender, 16-20 mm long, floor 2-ridged, abruptly expanded, base of lower lobes strongly bearded; anthers completely dehiscent but not explanate; staminode bearded most of its length (?). Flowers June to October.
Similar Species
This subspecies differs from ssp. linarioides by having oblanceolate rather than more or less linear leaves. The otherwise similar species Penstemon crandallii does not occur in southern New Mexico and its leaf surface has fine erect or retrorse hairs.
Distribution
New Mexico, Grant County; Arizona, Greenlee County; in and near the Gila River valley in both states.
Habitat
Limestone cliffs in piñon-juniper woodland; 1,830-1,980 m (6,000-6,500 ft).
Remarks
This taxon has been collected only four times, the first in Grant County, New Mexico, and the more recent three in Greenlee County, Arizona: Greene, 1880, Gila Valley; Metcalfe, probably about 1900, somewhere in Greenlee County; Maguire, Richards, and Moeller, 1935, 1 mile west of Mecalf (between Clifton and Morenci), the type specimens; and Marc Baker, 1994, apparently near the previous collection. Baker found the plants on limestone cliffs on private property planned to be mined for copper (Phil Jenkins, pers. comm. 1999). Apparently several plants were seen and some specimens collected but neither their whereabouts nor the fates of the existing plants are known. The plant has not been seen in New Mexico for over 100 years, but it may still exist in the canyons of the Gila River.
Conservation Considerations
This plant is apparently very rare. Mining activity threatens the only known population, which is in Arizona. More searches are needed to determine the distribution, abundance, and habitat needs of this taxon.
Important Literature
Keck, D.D. 1937. Studies in Penstemon IV. The section Ericopsis. Bulletin of the Torrey Botanical Club 64:378.
Nisbet, G.T. and R.C. Jackson. 1960. The genus Penstemon in New Mexico. University of Kansas Science Bulletin 41(5):691-759.
Information Compiled By
David Bleakly 1999
For distribution maps and more information, visit Natural Heritage New Mexico