Penstemon ramosus (Branching beardtongue)
Synonyms
PENSTEMON RAMOSUS CROSSWHITE IS NOW CONSIDERED A SYNONYM OF PENSTEMON LANCEOLATUS BENTHAM; PENSTEMON PAUCIFLORUS GREENE
Common Name
Branching beardtongue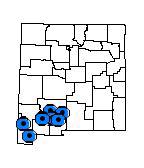 Description
Robust heterophyllous perennials from a woody caudex; stems 3-7.5 dm tall, puberulent, often branching midway up the stem; leaves of the branches linear, about 1 mm wide and 25 mm long; leaves of the main stem 3-6 mm wide, 6-11 cm long, isophyllous among themselves, narrowly linear-lanceolate, moderately puberulent, involute; inflorescence moderately to densely glandular-pubescent, a modified cyme with only one branch at a node, this bearing 1-2 flowers; sepals 5-10 mm long; corollas straight, red, 28-40 mm long; anther sacs opening almost throughout, twisted, not at all explanate, the sutures not toothed; capsules 9-15 mm long, 4-valved, the lobes widely divaricate with dehiscence; seeds about 3 mm long. Flowers May and June.
Similar Species
The Mexican Penstemon lanceolatus, which enters the U.S. only in Big Bend National Park, is very closely related. It differs from P. ramosus in its unbranched habit, non-revolute leaves and toothed anther sutures (see discussion below).
Distribution
New Mexico, Sierra, Doa Ana, Luna, and Hidalgo counties; adjacent southeastern Arizona; Mexico.
Habitat
North- and northeast-facing, gravelly slopes in desert grasslands; 1,200-1,800 m (4,000-6,000 ft).
Remarks
Anderson et al. (2007) examined herbarium material and plants in New Mexico in the field and found that the characteristics used to separate Penstemon ramosus and P. lanceolatus do not hold up when many plants are examined. They concluded there is no justification for maintaining P. ramosus as a species distinct from P. lanceolatus. The NMRPTC accepts this taxonomic treatement. Penstemon lanceolatus now has a distribution from Tamaulipus, Mexico, to southeastern Arizona and is relatively common within its range. It does not qualify as rare under NMRPTC criteria.
Conservation Considerations
Additional surveys should be conducted in Coahuila and eastern Chihuahua to determine if the apparant disjunction between eastern and western populations is real.
Important Literature
*Heflin, J. 1997. Penstemons: The beautiful beardtongues of New Mexico. Jackrabbit Press, Albuquerque, New Mexico.
Crosswhite, F.S. 1966. Revision of Penstemon section Chamaelon (Scrophulariaceae). Sida 2(4):339-346.
Greene, E. 1888. Penstemon pauciflorus. Botanical Gazette 6:218.
Anderson, J.L., S. Richmond-Williams and O. Williams. 2007. Penstemon lanceolatus Bentham or P. ramosus Crosswhite in Arizona and New Mexico, a peripheral or endemic species? Pp. 8-15, In: Barlow-Irick, P, J. Anderson and C. McDonald, technical editors. Southwestern rare and endangered plants: Proceedings of the fourth conference; March 22-26, 2004; Las Cruces, New Mexico. Proceedings. RMRS-P-48CD. Fort Collins, CO: USDA Forest Service, Rocky Mountain Research Station. \
Information Compiled By
Tom Todsen 1998; last updated 2008
For distribution maps and more information, visit Natural Heritage New Mexico