Eurybia horrida (Spiny aster)
Synonyms
ASTER HORRIDUS (WOOTON & STANDLEY) BLAKE; HERRICKIA HORRIDA WOOTON & STANDLEY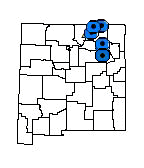 Description
Suffrutescent shrub from a branching, subterranean caudex; above ground stems somewhat woody but not perennial, 4-8 dm tall, usually glandular in the inflorescence; leaves sessile, 3-5 cm long, oblong to oblong-ovate, rigid, thick, spiny-toothed on the margins; flower heads solitary at the tips of short branches, about 10 mm high; outer involucral bracts leaf-like, inner bracts spine-tipped or merely sharp-pointed, in 2-3 series; ray flowers violet-purple; disk flowers yellow; pappus of numerous stiff bristles; achenes glabrous. Flowers July to October.
Similar Species
This plant is unlikely to be confused with any other aster-like species. Its woody stems and thick spiny leaves are distinctive.
Distribution
New Mexico, Colfax, western Harding, eastern Mora and eastern San Miguel counties, upper Canadian River Basin; adjacent Colorado, Las Animas County.
Habitat
Sandy shales on mountain and canyon slopes, from upper montane conifer forest down to juniper savanna; often associated with oak scrub; 1,250-3,250 m (4,100-10,700 ft).
Remarks
This species has great ecological amplitude occurring on dry, south-facing slopes in high mountains and shaded, north-facing slopes at low elevations. It is an attractive shrub worthy of ornamental cultivation.
The original genus name, Herrickia, honors Dr. C.L. Herrick, geologist, amateur botanist, and early president of the University of New Mexico.
Conservation Considerations
This plant is sporadically distributed, but not infrequent within the Canadian River Basin of New Mexico. Many large, healthy populations are known in areas that have already been impacted by mining and road building. Several others are in remote, inaccessible areas where they are not threatened by the prevailing land uses. It does not appear to be eaten by browsing herbivores.
Important Literature
*New Mexico Native Plants Protection Advisory Committee. 1984. A handbook of rare and endemic plants of New Mexico. University of New Mexico Press, Albuquerque.
Nesom, G.L. 1994. Review of the taxonomy of Aster sensu lato (Asteraceae: Astereae), emphasizing the New World species. Phytologia 77(3):141-297.
*Wooton, E.O. and P.C. Standley. 1913. Descriptions of new plants preliminary to a report upon the flora of New Mexico. Contributions from the U.S. National Herbarium 16:109-196.
Information Compiled By
Robert Sivinski 1999; last updated 2021
For distribution maps and more information, visit Natural Heritage New Mexico