Astragalus cottamii (Cottam's milkvetch)
Synonyms
ASTRAGALUS MONUMENTALIS BARNEBY VAR. COTTAMII (WELSH) ISLEY
Common Name
Cottam's milkvetch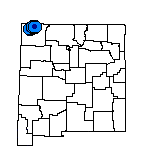 Description
Perennial, slightly tufted herb; stems 1.5-4.0 cm long, branching beneath the ground; leaves 1-4 cm long; leaflets 9-19, elliptic to oblanceolate, acute to obtuse, strigose on both surfaces with basifixed hairs or nearly glabrous above, 2-9 mm long 1.0-4.2 mm wide; racemes 3-9 flowered; flowers pea-like; calyx 6.2-8.0 mm long, purplish; flowers 11-17 mm long, purplish or purple and white; pods spreading-descending, sessile, curved, oblong to oblong-lanceolate, somewhat three-angled, two-chambered, hairy, usually purplish spotted. Flowers April and May.
Similar Species
Astragalus monumentalis of adjacent Utah is very similar, but differs by its smaller flower parts, overall smaller flower size, and presence of slightly dolabriform hairs. Astragalus naturitensis differs by having fruits somewhat shorter (13-22 mm), greater in diameter (4-6 mm), and dorso-ventrally compressed rather than three-angled.
Distribution
New Mexico, San Juan County; adjacent northeastern Arizona and southeastern Utah.
Habitat
Astragalus cottamii is found in rimrock habitats often within weathered depressions and crevices in sandstone substrates of Cretaceous origin in piñon-juniper woodland; 1,530-1,840 m (5,000-6,000 ft).
Remarks
This species is a Colorado Plateau endemic confined to the Four Corners region. It can be locally abundant within its habitats.
Conservation Considerations
There is much energy development within the range of this species. Oil and gas activities are unlikely to have a severe affect as this species seems to prosper in slightly disturbed areas.
Important Literature
*New Mexico Native Plants Protection Advisory Committee. 1984. A handbook of rare and endemic plants of New Mexico. University of New Mexico Press, Albuquerque.
Barneby, R.C. 1964. Atlas of North American Astragalus. Memoirs of the New York Botanical Garden 13:1-1188.
Isely, D. 1998. Native and naturalized Leguminosae (Fabaceae) of the United States. Monte L. Beane Life Science Museum, Brigham Young University, Provo, Utah.
Welsh S.L., N.D. Atwood, L.C. Higgins and S. Goodrich. 1993. A Utah flora, 2nd ed. Brigham Young University Press, Provo, Utah.
Welsh, S. 1970. An undescribed species of Astragalus from Utah. Rhodora 72:189-193.
Information Compiled By
Paul Knight 1999
For distribution maps and more information, visit Natural Heritage New Mexico