Astragalus ripleyi (Ripley's milkvetch)
Common Name
Ripley's milkvetch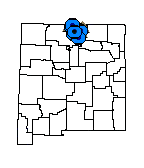 Description
Perennial; stems 1-6 from a subterranean root-crown, stout, erect and stiffly ascending, 4-7 dm long, strigulose nearly throughout with fine, straight, appressed hairs; stipules 1-5 mm long; leaves pinnately compound, 4-9(11) cm long, commonly divaricate and incurved, shortly petioled or the uppermost subsessile; leaflets 11-21, glabrous on upper side, rather distant, opposite or scattered, linear or linear-elliptic, somewhat involute, (3)9-25(35) mm long, the terminal leaflet nearly always decurrent on the rachis; racemes loosely (5)15-45-flowered; flowers pea-like, early declined and secund; petals pale lemon-yellow, concolorous; banner recurved through approximately 35 degrees, oblanceolate or rhombic-oblanceolate, (13)14-17 mm long, 4.5-6.3 mm wide; wings 12-14 mm long, keel 10-11mm long; pod pendulous, stipitate, the slender, straight stipe 8-15 mm long, the body linear-oblong, lanceolate, or narrowly elliptic in profile, straight or a little arched downward, 2-3 cm long, 4-6 mm in diameter; seeds yellowish-brown, rugulose-punctate, dull, 3-3.5 mm long. Flowers late June to late July.
Similar Species
Astragalus ripleyi has 11-21 leaflets and the pods are laterally compressed. Astragalus lonchocarpus has 1-9 leaflets and the pods are dorsiventrally compressed. Astragalus drummundii has dense, spreading pubescence and its pods are trigonous in cross-section.
Distribution
New Mexico, Rio Arriba and Taos counties; adjacent Colorado, Conejos County.
Habitat
Sagebrush, pinyon-juniper woodland, and Gambel oak thickets in ponderosa pine forest; 2,120-2,500 m (7,000-8,250 ft).
Remarks
This is one of the few New Mexico milkvetches that is a desirable forage plant. It is relished by deer, elk, and all classes of livestock, without toxic effects.
Conservation Considerations
Astragalus ripleyi may occasionally be impacted by vegetation projects since it is often found in pinyon-juniper-oak communities and with big sagebrush. It is also grazed by livestock and wildlife. Impacts of vegetation treatments and fire have not been studied. Populations should be experimentally treated and closely monitored to inform management prior to initiating widespread treatment prescriptions; otherwise, populations should be avoided until more is known. This desirable forage plant somewhat resembles the poisonous A. lonchocarpus and could be subjected to local eradication efforts that, misguidedly, target all species of Astragalus.
Important Literature
Barneby, R.C. 1964. Atlas of North American Astragalus. Memoirs of the New York Botanical Garden 13:1-1188.
Isely, D. 1998. Native and naturalized Leguminosae (Fabaceae) of the United States. Monte L. Beane Life Science Museum, Brigham Young University, Provo, Utah.
*Colorado Rare Plant Technical Committee. 1997. Colorado rare plant field guide. Prepared for Bureau of Land Management, U.S. Forest Service, and U.S. Fish & Wildlife Service by the Colorado Natural Heritage Program, Fort Collins.
*Ladyman, J.A.R. 2003. Astragalus ripleyi Barneby (Ripley's milkvetch): A technical conservation assessment. [Online]. USDA Forest Service, Rocky Mountain Region. Available: http://www.fs.fed.us/r2/projects/scp/assessments/astragalusripleyi.pdf [accessed September 2011]. \
Information Compiled By
Ken Heil, Joey Herring 1999; last updated 2018
For distribution maps and more information, visit Natural Heritage New Mexico