Proboscidea sabulosa (Dune unicorn plant)
Common Name
Dune unicorn plant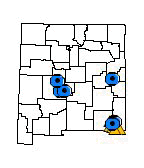 Description
Sticky-hairy annual up to 1 m or more across, stems spreading, branched; leaves stalked, the blades more or less triangular to rounded, heart-shaped in outline, 8-12 cm in diameter, wavy on margins; flowers in small clusters, usually hidden by foliage; corolla tubular, irregularly 5-lobed, about 2 cm long and half as wide at widest point, tube cream with small reddish spots or pale blotches on inside, lobes reddish-purple; fruit oblong-ellipsoid, keeled on back, to about 7 cm long and 2 cm wide, bearing a long, tapering, recurved tip, that splits into two long, recurved claws when dry. Flowers July and August.
Similar Species
Proboscidea louisianica has larger flowers. Proboscidea sabulosa is considered to be the smallest flowered species in the genus.
Distribution
New Mexico, Eddy, Harding, Lea, Quay, and Socorro counties; adjacent Texas; Mexico, Chihuahua.
Habitat
Deep sands of semi-stabilized dunes in Chihuahuan desert scrub and arid grasslands, often with mesquite or shin oak; elevations of 900-1,400 m (3,000-4,600 ft).
Remarks
This species is a widely scattered, regional endemic adapted to sand dune habitats. It is an annual plant that may become locally abundant within its habitats during unusually wet summers. Populations are sporadic and widely scattered, but it is frequent enough that it does not qualify as a New Mexico rare plant.
The green fruits of Proboscidea can be made into pickles and the dry seeds are delicious. The clasping dry fruits easily attach to the feet of large ungulates for dispersal to new habitats.
Conservation Considerations
Soil disturbing land uses are not a threat to this rare plant. It has even been found colonizing fallow farm fields. It is not palatable to grazing animals.
Important Literature
*New Mexico Native Plants Protection Advisory Committee. 1984. A handbook of rare and endemic plants of New Mexico. University of New Mexico Press, Albuquerque.
Correll, D.S. and M.C. Johnston. 1970. Manual of the vascular plants of Texas. Texas Research Foundation, Renner, Texas.
Bretting, P.K. 1981. A systematic and ethnobotanical survey of Proboscidea and allied genera of the Martyniaceae. Unpublished Ph.D. dissertation, Indiana University, Bloomington. \ \
*Correll, D.S. 1966. Some additions and corrections to the Flora of Texas - III. Rhodora 68:426-428.
Sivinski, R. and A. Cully. 1990. Status report on Proboscidea sabulosa. For: U.S. Fish and Wildlife Service, New Mexico Ecological Services Field Office, Albuquerque. \ \
Information Compiled By
Patricia Barlow-Irick 1999; last updated 2005
For distribution maps and more information, visit Natural Heritage New Mexico