Abronia bolackii (Bolack's sand verbena)
Synonyms
ABRONIA ELLIPTICA
Common Name
Bolack's sand verbena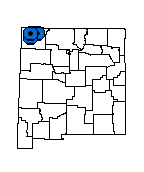 Description
Herbaceous perennial with cord-like creeping rhizomes forming extensive colonies; stems 9-18 cm tall; leaves elliptic to ovate, entire; blades 1-2.8 cm long, 0.5-1.6 cm wide, with a few short hairs; petioles 0.5-3.2 cm long; inflorescence capitate, glandular-puberulent; peduncles 1.8-5.5 cm long; bracts 5, green and becoming white at maturity, ovate, the tips rounded or apiculate, 6-10 cm long, 4-10 cm broad; flowers 16-25 per head, perianth green-white, tube 7-11 mm long, glandular, the lobes about 3 mm wide; anthocarps obconic, (3- to) 5-winged or angled, puberulent, 5-6.7 mm long. Flowers May to June.
Similar Species
Both Abronia fragrans and A. nana grow in the Four Corners region. Abronia fragrans lacks rhizomes and has larger flowers; A. nana also lacks rhizomes, is subscapose, definitely not caulescent, and has mostly basal leaves.
Distribution
New Mexico, San Juan County.
Habitat
Gypsiferous clay often on very steep hillsides in a Juniperus, Hilaria, Amelanchier, Purshia, Ephedra community or on sandy shale with Atriplex; 1,600-1,750 m (5,250-5,750 ft).
Remarks
Ackerfield and Jennings (2008) cited to the conclusion that A. bolackii is a race of A. elliptica that occurs in silty-clay gypseous soils at the southeastern edge of the range of A. elliptica. Both have flowers of similar size, similar number of flowers per head (16-25 for A. bolackii versus 14-34 for A. elliptica), and papery fruits with hollow wings expanded into small pads on the distal edge. They are vegetatively the same including the presence of rhizomes. Absent from taxonomic descriptions, and missed by most collectors, is that fact that A. elliptica is usually rhizomatous in the eastern half of its range. An extensive series of documenting specimens dug by Spellenberg has been deposited in the Biology Department herbarium (NMC) at New Mexico State University to illustrate the conspicuously rhizomatous nature of A. elliptica and indistinctness of A. bolackii.
Conservation Considerations
Occurs on a variety of land ownerships in a region that is heavily impacted by energy development (coal strip-mining and natural gas). Additional surveys are needed to determine the distribution of this plant and potential threats to its habitats.
Important Literature
*Atwood, D.N., S.L. Welsh and K.D. Heil. 2002. A new species of Abronia (Nyctaginaceae) from San Juan County, New Mexico, U.S.A. Novon: A Journal for Botanical Nomenclature from the Missouri Botanical Garden 12:167-169.
Ackerfield, J. and W.F. Jennings. 2008. The genus Abronia (Nyctaginaceae) in Colorado, with notes on Abronia bolackii in New Mexico. Journal of the Botanical Research Institute of Texas 2(1):419-423.
Information Compiled By
Kenneth D. Heil 2002; last updated 2015
For distribution maps and more information, visit Natural Heritage New Mexico