Astragalus cobrensis var. maguirei (Maguire's milkvetch)
Common Name
Maguire's milkvetch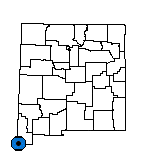 Description
Rhizomatous perennial from subterranean caudex; stems few or several, to about 20 cm long, decumbent; herbage with short, stiff, spreading or incurved hairs 0.6-0.8 mm long; stipules connate; leaves 1.5-8 cm long; leaflets broad, glabrous or glabrate above; inflorescence usually included within foliage, elongating in fruit; flowers numerous, spreading, becoming declined; calyx 3-5 mm long, with mostly black or dark hairs; corolla 6.5-8 mm long, whitish, tinged with dull lilac; pods pendulous, subsessile, oblong, sometimes slightly curved, subterete, 8-15 mm long, 3.5-6 mm in diameter, bilocular or nearly so, persistent, dehiscent, valves papery, white-villosulous. Flowers April and May.
Similar Species
The allopatric Astragalus cobrensis var. cobrensis occurs in the Gila River watershed further north. It has thinly strigulose vesture with fine appressed hairs up to about 0.5 mm long, strigulose pods, and glabrous upper leaf surfaces.
Distribution
New Mexico, Hidalgo County, Peloncillo Mountains; Arizona, Cochise County, Chiricahua and Peloncillo mountains.
Habitat
Dry creek beds, banks, canyon sides, generally dry, open slopes with oaks, juniper, and pine, 1,650-2,150 m (5,500-7,000 ft).
Remarks
Variety maguirei has been collected only once in New Mexico in the Peloncillo Mountains near the Arizona border.
Conservation Considerations
Additional field surveys are needed to determine the distribution, population densities, and potential threats to this plant.
Important Literature
Barneby, R.C. 1964. Atlas of North American Astragalus. Memoirs of the New York Botanical Garden 13:1-1188.
*Arizona Rare Plant Committee. circa 2001. Arizona rare plant field guide: A collaboration of agencies and organizations. Arizona Heritage Data Management System, Arizona Game and Fish Department, Phoenix.
Isely, D. 1998. Native and naturalized Leguminosae (Fabaceae) of the United States (exclusive of Alaska and Hawaii). Monte L. Bean Life Science Museum, Brigham Young University, Provo, Utah.
Information Compiled By
David Bleakly 1999
For distribution maps and more information, visit Natural Heritage New Mexico