Astragalus heilii (Heil's milkvetch)
Common Name
Heil's milkvetch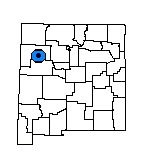 Description
Low, subcaulescent perennial; basifixed pubescent; stems mostly 2-4 cm long, obscured by stipules and leaf bases; stipules 2-3 mm long, merely amplexicaul or the lowermost connate-sheathing; leaves 1-2.5 cm long; leaflets mostly 7-13, elliptic, obtuse, strigulose on both sides 2-3.5 mm long, 1-1.6 mm wide; peduncles 1-7 cm long, racemes with (1)2-4 ascending flowers; flowers pea-like; calyx 2.3-3 mm long, the tube 1.7-0.9 mm long; petals whitish or tinged violet; pods spreading or pendulous, the body ellipsoid, subinflated, 9-9.8 mm long, 4.5-4.6 mm thick, slightly dorsiventrally compressed, thin-walled, red-mottled, unilocular; ovules 8-10. Flowers in May.
Similar Species
Astragalus knightii can be distinguished from A. heilii by the presence of dolabriform hairs on A. knightii. Astragalus heilii is similar to Astragalus kerrii from which it differs by having marcescent leaves and peduncles that form a thatch and the plant is smaller in all parts than for A. kerrii.
Distribution
New Mexico, McKinley County.
Habitat
Rim rock ledges of the Mesa Verde Group, in piñon-juniper woodland; 2,195 m (7,200 ft).
Remarks
Astragalus heilii is a very narrow endemic known only from the type location on the Navajo Nation near Borrego Pass. Additional field surveys are needed to determine its abundance and distribution.
Conservation Considerations
An inventory of potential habitat in New Mexico is needed to determine if current land uses pose a threat to this plant.
Important Literature
Welsh, S.L., N.D. Atwood, S. Goodrich and L.C. Higgins. 2003. A Utah Flora, 3rd ed. Monte L. Bean Life Science Museum, Brigham Young University, Provo, Utah.
Information Compiled By
Kenneth D. Heil 2007
For distribution maps and more information, visit Natural Heritage New Mexico