Eriogonum lachnogynum var. sarahiae (Sarah's wild buckwheat)
Synonyms
ERIOGONUM SARAHIAE N.D. ATWOOD & A. CLIFFORD
Common Name
Sarah's wild buckwheat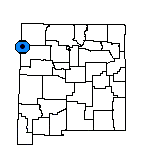 Description
Perennial herb forming hemispheric mounds up to 3 dm across from an intricately branching caudex; leaves all basal, short-petiolate, the blade narrowly elliptic, 4-12 mm long, 1.5-4 mm wide, silky-tomentose below, green and strigose above, the margins revolute; inflorescence stems up to 40 or more per plant, 1.5-5.5 cm long, silky tomentose; inflorescences capitate; involucres 5-lobed, 3-5 mm high, 5-6.5 mm wide; flowers yellow, 2.5-4.5 mm long, 5-12 per involucre; petals villous pubescent on outer surface; ovaries and seeds villous. Flowers late May and June.
Similar Species
Eriogonum lachnogynum is distinguished from other perennial yellow-flowered wild buckwheats in New Mexico by its villous ovaries and seeds. Variety lachnogynum usually has fewer and longer flowering stems with broader inflorescences than var. sarahiae and does not form large hemispheric mounds. Variety colobum is also a cushion-like (pulvinate) plant, but with very short inflorescences that usually do not exceed the leaves.
Distribution
New Mexico, McKinley County, Chuska Mountains; Arizona, Apache and Navajo counties.
Habitat
Open sandy limestone ridges and edges of mesas in piñon-juniper woodland; about 1,800-2,300 m (5,900-7,540 ft).
Remarks
Presently known in New Mexico only from the eastern rim of Red Valley near the Arizona border. This plant is named for Sarah Charley of Beclabito, New Mexico, who was a master weaver of Navajo rugs, sheepherder, and herbalist in the Diné tradition.
Conservation Considerations
Sarahs wild buckwheat occurs in very small, widely scattered populations that could be seriously impacted by quarrying or road building activities. This unpalatable plant is not threatened by livestock grazing.
Important Literature
Atwood, N.D. and A. Clifford. Nomenclatural proposals and taxonomic novelties. Page 840, In: Welsh, S.L., N.D. Atwood, S. Goodrich and L.C. Higgins. 2003. A Utah Flora, 3rd ed. Monte L. Bean Life Science Museum, Brigham Young University, Provo, Utah.
Reveal, J.L. 2004. Nomenclatural summary of the Polygonaceae subfamily Eriogonideae. Harvard Papers in Botany 9:143-230.
Reveal, J.L. and A. Clifford. 2004. A new variety of Eriogonum lachnogynum (Polygonaceae: Eriogonideae). Phytologia 86(3):169-172.
Reveal, J.L. Eriogonum. Pages 218-430, In: Flora of North America Editorial Committee. 2005. Flora of North America, volume 5. Oxford University Press, New York.
Information Compiled By
Robert Sivinski 2007
For distribution maps and more information, visit Natural Heritage New Mexico