Astragalus cyaneus (Cyanic milkvetch)
Synonyms
ASTRAGALUS SHORTIANUS NUTTALL VAR. CYANEUS (A. GRAY) M.E. JONES; ASTRAGALUS JEMENSIS A. NELSON; TRAGACANTHA CYANEA (A. GRAY) KUNTZE; XYLOPHACOS CYANEUS (A. GRAY) RYDBERG
Common Name
Cyanic milkvetch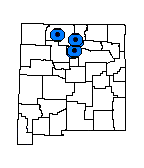 Description
Perennial; stemless or stems numerous, short, 1-6 cm long; foliage grayish or green, strigulose with basifixed hairs; leaves 5-15 cm; leaflets 15-29, obovate to elliptic, 5-15 mm long, 1.5-3 times longer than wide; stipules free (not connate); inflorescences included within the foliage, axis 4-6 cm, with 10-numerous, loosely arranged, spreading or somewhat declined pea-like flowers, flowering stems elongating in fruit to 1.5-2.5 dm; calyx tube bell-shaped to cylindric, 8-10 mm long, lobes 2-4.5 mm long; corolla 18-22 mm long, pink-purple, narrow, banner with pale eyespot; fruits ascending to humistrate (lying on ground), inconspicuosly strigose, sessile, unilocular or appearing partially bilocular due to near conjunction of top and bottom sutures (making the pod didymous), 2.5-3.5(4.5) cm long, 7-13 mm wide, top and bottom faces both depressed, bottom deeply so, sutures conspicuous, walls fleshy, becoming thickly corky or woody and rough upon drying. Flowers late April to June (August).
Similar Species
A key feature is the large, thickly fleshy, ultimately woody, didymous pods. It is closely related to A. shortianus from which it is distinguished by the following features:
Astragalus cyaneus - foliage and calyx strigose; leaflets 15-29; fruits usually didymous with both surfaces depressed (sulcate); north-central New Mexico.
Astragalus shortianus - foliage silky; calyx villous (with long, loose hairs); leaflets 9-17; fruit with conspicuously carinate (ridged) ventral suture; northeastern New Mexico and northward.
Distribution
New Mexico, Rio Arriba, Santa Fe, and Taos counties.
Habitat
Dry hillsides and gullied banks, in sandy or gravelly soils, commonly in piñon-juniper woodland; 2,100-2,230 m (6,900-7,300 ft).
Remarks
This plant is relatively common within its limited range.
Conservation Considerations
Current land uses pose little threat to this species.
Important Literature
*New Mexico Native Plants Protection Advisory Committee. 1984. A handbook of rare and endemic plants of New Mexico. University of New Mexico Press, Albuquerque.
Barneby, R.C. 1964. Atlas of North American Astragalus. Memoirs of the New York Botanical Garden 13:1-1188.
Isely, D. 1998. Native and naturalized Leguminosae (Fabaceae) of the United States (exclusive of Alaska and Hawaii). Monte L. Bean Life Science Museum, Brigham Young University, Provo, Utah.
Gray, A. 1849. Memoirs of the American Academy of Arts and Sciences II(4):34 (Plantae Fendleriana 34).
Information Compiled By
David Bleakly 1999
For distribution maps and more information, visit Natural Heritage New Mexico