Draba smithii (Smith's whitlowgrass)
Common Name
Smith's whitlowgrass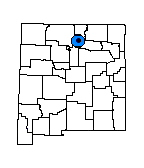 Description
Perennial; caudex multicipital; branches prostrate, slender and usually matted; basal leaves tufted, linear-oblanceolate to obovate, entire to denticulate, 0.5-1.3(-2.5) cm long; stem leaves 3-8, slightly smaller; plants including pedicels cinereous with dense short branched trichomes; flowering stems simple, 10-15 cm tall; inflorescence loose, 12-28-flowered; petals 4, white; fruiting pedicels mostly longer than the siliques, lower up to 1 cm long; siliques ovate-lanceolate, 5-9 mm long, usually contorted, finely pubescent with minute branched trichomes; styles 1-2 mm long; seeds mostly 1 mm long. Flowers June to July.
Similar Species
Draba smithii is easily recognized by its long styles (1-2 mm long), white flower petals, minute trichomes (0.05-0.2 mm long), and prostrate mats.
Distribution
New Mexico, Taos County; Colorado, Archuleta, Custer, Hinsdale, Las Animas, Mineral, and Saguache counties.
Habitat
Montane and mountain shrub zones, mostly on rocky outcrops and talus slopes, rarely along streams; 2,365-4,000 m (7,760-13,125 ft).
Remarks
Known populations are widely disjunct and its distribution is patchy. Although many areas have potential habitat, Smiths whitlowgrass is rare.
Conservation Considerations
Draba smithii usually grows in habitats that have few disturbances. However, recreational activity may be a potential problem.
Important Literature
Rollins, R.C. 1993. The Cruciferae of continental North America. Stanford University Press, Stanford, California.
*Ladyman, Juanita A.R. 2004. Draba smithii Gilg ex O.E. Schulz (Smiths draba): a technical conservation assessment [Online]. USDA Forest Service, Rocky Mountain Region. Available: http://www.fs.fed.us/r2/projects/scp/assessments/drabasmithii.pdf
Weber, W.A. and R.C. Wittman. 2001. Colorado Flora, eastern slope. Third edition. University of Colorado, Boulder, Colorado.
Information Compiled By
Kenneth D. Heil 2009
For distribution maps and more information, visit Natural Heritage New Mexico