Phacelia cloudcroftensis (Cloudcroft scorpionweed)
Common Name
Cloudcroft scorpionweed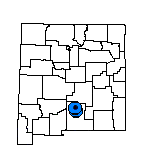 Description
Plants robust annuals to about 8 dm tall; stems to 2 cm thick, pubescent and glandular throughout; stem leaves broadly lanceolate, 4-10 cm long, 1.5-5 cm wide, irregularly crenate-dentate or lobed, lower and basal leaves deeply lobed to pinnatifid; inflorescences terminal on main stem and on lateral branches, cymes elongating to 8.5-15 cm in fruit; corolla tubular, pale blue or lavender, 4-4.5 mm long, lobes about 1 mm long, crenate; stamens and style exserted 1-1.7 mm, style bifid three-fourths its length, mostly hispidulous; calyx lobes nearly distinct, 2.5-3.5 mm long in flower, to 5 mm long and 2.5-3.5 mm wide in fruit, usually slightly longer than the capsule; capsule oblong, 4.5-5 mm long, densely short-glandular; seeds 3, dark brown, 3.5-4.3 mm long, 1.2-1.7 mm wide, uniformly pitted, shallowly excavated from the upturned margins, ventral ridge usually corrugated on one side. Flowers July through late September.
Similar Species
Phacelia cloudcroftensis is similar to, and geographically sympatric with, P. texana, but the corolla in P. texana is longer (greater than 4.5 mm) than in P. cloudcroftensis (less than 4.5 mm). Phacelia cloudcroftensis is also a taller, more robust plant of montane habitats than is P. texana, which occurs in desert scrub and arid grasslands. Other montane scorpionweeds sympatric with P. cloudcroftensis are P. alba and P. neomexicana, but both of these have once or twice pinnately divided leaves while P. cloudcroftensis leaves are entire or only pinnatisect near the base of the blade.
Distribution
New Mexico, Otero County, Sacramento Mountains.
Habitat
Disturbed sites in arroyo channels or along roads, in mixed conifer forest down to upper piñon-juniper woodlands, 1,980-2,350 m (6,500-7,700 ft).
Remarks
Presently known only from a few very small populations near Cloudcroft and south of Bent. This annual plant is extremely rare and difficult to find.
Conservation Considerations
Some known occurrences are situated along roads and in the right-of-way of U.S. Highway 82 and thus may be vulnerable to mowing, herbicide application, roadside construction, maintenance, and related disturbances.
Important Literature
*Atwood, N.D. 2007. Six new species of Phacelia (Hydrophyllaceae) from Arizona and New Mexico. Novon: A Journal for Botanical Nomenclature from the Missouri Botanical Garden 17:403-446.
Roth, D. 2012. Phacelia cloudcroftensis (Cloudcroft scorpion-weed). Status report. Unpublished report prepared by EMNRD-Forestry Division, Santa Fe, NM, for the USFWS, Region 2, Albuquerque, NM.
Information Compiled By
David L. Bleakly 2010; last updated 2016
For distribution maps and more information, visit Natural Heritage New Mexico