Draba heilii (Heil's alpine whitlowgrass)
Common Name
Heil's alpine whitlowgrass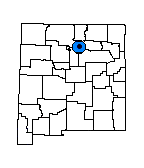 Description
Densely caespitose perennial; caudex few-branched, compact, with persistent, thickened leaves; basal leaves imbricate, undifferentiated into blade and petiole, linear-lanceolate, 5-8 mm long, 1-1.5 mm wide, surfaces glabrous or rarely pilose, margins entire, ciliate; stems unbranched or branched distally, 3-7 cm long, glabrous throughout or rarely pilose; stem leaves 6-8, sessile, blades linear-oblong, 5-8 mm long, 1-2 mm wide, margins entire, ciliate; racemes 10-26-flowered, elongated in fruit; sepals ovate, 1.7-2.7 mm long, glabrous or rarely pilose; petals yellow, oblong-oblanceolate, 4-6 mm long, 1.5-2 mm wide; fruits narrowly lanceolate, twisted 1/2 turn or plane, flattened, 7-10 mm long, 1.3-1.6 mm wide. Flowers late June through July.
Similar Species
Five species of Draba grow in northern New Mexico at or near the elevation of D. heilii. Draba crassifolia has yellow flowers and plane fruits, D. breweri has white flowers and twisted fruits, and D. streptocarpa, D. aurea, and D. helleriana all have yellow flowers and slightly to strongly twisted fruits. But, none of these species are densely caespitose with thickened persistent basal leaves.
Distribution
New Mexico, Rio Arriba and Mora counties, Sangre de Cristo Mountains.
Habitat
Alpine tundra growing in association with other low, caespitose or pulvinate alpine plants; about 3,690 m (12,100 ft).
Remarks
Steve O'Kane and Ken Heil discovered this species in 2008 in the vicinity of Truchas and Santa Barbara peaks in the Pecos Wilderness. It appears to be a very narrow endemic. Additional field surveys are needed to determine its abundance and distribution.
Conservation Considerations
This plant is not currently threatened by land uses within its habitat. In the longer term, global climate change threatens this species and all other narrowly endemic alpine plants.
Important Literature
*Al-Shehbaz, I.A. 2009. Two new North American species of Draba (Brassicaceae): D. heilii from New Mexico and D. mulliganii from Alaska. Harvard Papers in Botany 14(1):83-86.
Flora of North America Editorial Committee. 2010. Flora of North America, volume 7. Oxford University Press, New York.
Information Compiled By
Charlie McDonald 2010
For distribution maps and more information, visit Natural Heritage New Mexico