Paronychia wilkinsonii (Wilkinson's nailwort)
Common Name
Wilkinson's nailwort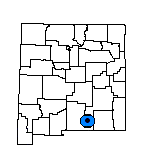 Description
Small, cushion-forming perennial herb with a branched caudex; stems erect or ascending, 2.5-6(-10) cm high, hirtellous, mostly obscured by the opposite leaves; stipules lanceolate, scarious, 5-8 mm long and generally equaling the leaves, to 1.5 mm wide, apex acuminate and often deeply bifid; leaves leathery, linear with a pungently mucronate apex, 5-9 mm long and ca. 1 mm wide, hirtellous; inflorescence a densely congested, 3-7(-10) flowered, terminal cyme; flowers small, inconspicuous, ca. 4 mm across, without petals, with a short, campanulate hypanthium; sepals 5, erect, puberulent, 1.5-2 mm long and ca. 1 mm wide, green or red-brown, oblong, with white, scarious margins 0.2-0.3 mm wide, apex with a stout, scabrous, white, divergent awn 1.5-2 mm long; stamens 5, shorter than the sepals; staminodes 5, minute, 0.2-0.4 mm long; carpels 2, connate, with 2 distinct styles shorter than the stamens, 0.5-0.7 mm long; fruit a utricle, 1.2-1.3 mm long. Flowers April to October.
Similar Species
All other Paronychia species in the state have shorter (< 1 mm), yellowish or greenish awns terminating the sepals. The only other species in the U.S. with white awns approaching the length of those of P. wilkinsonii is Paronychia maccartii, which is known only from the type locality in southern Texas and is distinguished from P. wilkinsonii by its glabrous (rather than hirtellous) leaves and hooked (rather than straight) hairs on the hypanthium.
Distribution
New Mexico: Otero County. Texas: Brewster County; Mexico: Chihuahua (near Ciudad Chihuahua, Sierra de Hechiceros, and Sierra de los Organos) and northern Coahuila (Serranías del Burro and near El Tule).
Habitat
In New Mexico, P. wilkinsonii has only one known population, ca. 400 m east to west, on the gravelly limestone bajada of the Guadalupe Mountains. Assessment of the associated plant community is complicated by recent land management activities. The western third or so of the population is within an area where the herbicide tebuthiuron was applied by the BLM in order to remove Larrea tridentata, while the eastern two thirds of the population is not. The entire population is presently in Bouteloua warnockii grassland but, based on comparison to adjacent, untreated land just to the south, the western portion was likely in a transitional zone between L. tridentata shrubland and B. warnockii grassland prior to herbicide treatment. In Texas, P. wilkinsonii is only found on novaculite (a form of chert formed primarily of microcrystalline quartz) outcrops in the Marathon Basin. The habitat of the species in Mexico is not known.
Remarks
Paronychia wilkinsonii was only recently found in New Mexico, and is presently known in the state from a single site just east of the Tanner Ranch at the western base of the Guadalupe Mountains. The species has a relatively broad distribution (ca. 450 km north to south and ca. 400 km east to west) but is very sporadically distributed throughout its range, reported from seven small areas. The population in New Mexico is widely disjunct (ca. 300 km) from the nearest known populations in Texas. Due to its small size and inconspicuous flowers, P. wilkinsonii might be easily overlooked in the field. More field work is needed to determine its abundance and distribution, especially in New Mexico.
Conservation Considerations
In New Mexico, the site where P. wilkinsonii is found is remote and unlikely to be affected by human activity other than cattle grazing or land management activities in support of grazing. Due to its short stature, P. wilkinsonii is not likely to be consumed by cattle. However, the effects of trampling or changes in vegetation due to grazing are unknown. The use of the herbicide tebuthiuron on part of the New Mexico population of P. wilkinsonii is the most evident cause for concern. The effects of tebuthiuron applications on P. wilkinsonii are unknown.
Important Literature
*Poole, J.M., W.R. Carr, D.M. Price and J.R. Singhurst. 2007. Rare plants of Texas: A field guide. W.L. Moody Jr. Natural History Series, number 37. Texas A&M University Press, College Station. 656 pp.
Chaudri, M.N. 1968. A revision of the Paronychiinae. Doctoral dissertation, Botanisch Museum en Herbarium van de Rijksuniveriteit te Utrecht.
Hartman, R.L., J.W. Thieret, and R.K. Rabeler. 2005. Paronychia. In: Flora of North America Editorial Committee, eds. Flora of North America North of Mexico, vol. 5, pp. 30-43.
Turner, B.L. 1983. The Texas species of Paronychia (Caryophyllaceae). Phytologia 54(1):9-23. \ \
Watson, S. 1886. Contributions to American Botany. Proceedings of the American Academy of Arts and Sciences 21:414-468.
Information Compiled By
Patrick Alexander 2014
For distribution maps and more information, visit Natural Heritage New Mexico