Castilleja tomentosa (Tomentose paintbrush)
Synonyms
CASTILLEJA INTEGRA A. GRAY - GRAY MISTAKENLY REDUCED C. TOMENTOSA TO SYNONOMY WITH C. INTEGRA IN 1862; THAT CLASSIFICATION HAS BEEN MISAPPLIED UNTIL THE RECENT CORRECTION BY EGGER (2012).
Common Name
Tomentose paintbrush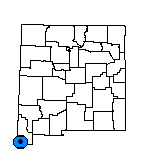 Description
Hemiparasitic perennial herb, multi-stemmed, to approximately 40 cm tall; stem pubescence unbranched, whitish-gray tomentose; leaves alternate, sparsely scabrous-hispid above, moderately scabrous-hispid below; lower and middle leaves lanceolate, entire, involute; upper leaves entire or deeply cleft to the middle of the blade similar to floral bracts; inflorescence short, 8 to 10 cm long, 15-20 flowered, tomentose; floral bracts 20-25 mm long, 3-5 lobed, deeply cleft to below the mid-point, 3-nerved, red-tipped or occasionally red-orange tipped, green proximally; calyx approximately 17-20 mm long, tomentose, green proximally, red distally, deeply cleft to the mid-point with acute, linear-lanceolate lobes on each side, the side lobes being cleft about 4 mm or about 1/5 the length of the calyx; corolla 20-22 mm long, exserted from the calyx by 4-5 mm, 2 lipped; galea bright green, tomentose, extending approximately 5 mm past the lower lip; lower lip vestigial with peach-reddish coloring between the lower lip and the galea; style exserted about 2 mm; fruit an ovoid, bilocular capsule. Flowering June to October in response to monsoon precipitation. Likely hummingbird pollinated.
Similar Species
Castilleja tomentosa keys, with difficulty, to C. wootonii or C. integra in Allred and Ivey (2012 - Flora Neomexicana III). In overall appearance, C. tomentosa appears very similar to C. integra. With closer observation of characters per M. Egger (2012), Castilleja lanata is most similar to C. tomentosa; both species having deeply divided floral bracts with a pair of long, linear-lanceolate lobes usually originating from well below the middle of the bract blade. In C. lanata, the primary lobes of the calyces are entire and rounded, with a notched apex (emarginate), or shallowly cleft into obtuse to rounded lobes. Perhaps the most obvious differing characteristic of C. lanata is the densely woolly (lanate) stem pubescence, with branched or unbranched hairs. In contrast, C. tomentosa stem pubescence is less dense (tomentose) with unbranched hairs, and the calyx lobes are much more deeply cleft into linear-lanceolate secondary lobes. Continuing with Egger (2012), Castilleja integra has floral bracts that are usually entire and distally broadly rounded, sometimes with a pair of short, lanceolate lateral lobes. Stem leaves of C. integra are linear to linear lanceolate and not strongly differentiated from floral bracts. In Castilleja stenophylla, a Mexican species that potentially occurs in the Bootheel area, floral bracts are almost always entire, clearly lanceolate, and distally acute. A key for these species is presented in Egger 2012.
Distribution
New Mexico, Hidalgo Co., Animas Valley and adjacent Sonora, Mexico.
Habitat
An isotype for Castilleja tomentosa at the Gray Herbarium, Harvard Univ. was collected by G. Thurber in June 1851 on "dry hillsides" in Sonora, MX. However, plants occurring in and adjacent to the Animas Valley, NM are found primarily in open relatively flat Chihuahuan Desert grama grassland, including grama dominated uplands around cienegas. Notable deviations from the primary habitat include small Bothriochloa dominated drainages embedded within occupied grama grasslands and larger oak dominated drainages on edge of occupied grasslands at the lower edge of Madrean woodland. Castilleja tomentosa occurs at elevations of 1,370 to1,650 m (4,500-5,400 ft). Community dominant species include: Bouteoua gracilis, and Bouteloua eriopoda. Other associates include: Ambrosia psilostachya, Aristida ternipes, Artemisia carruthii, Bothriochloa spp., Dalea albiflora, Euphorbia spp, Gaillardia pinnatifida, Heterotheca subaxillaris, Hymenopappus flavescens, Macroptilium gibbosifolium, Monarda spp., and Sporobolus airoides.
Remarks
Castilleja tomentosa is currently verified from only 2 general locations approximately 90 km (50 mi) apart; the type locality "Mabibi" presumably located near Fronteras, Sonora, MX, and from the vicinity of the Animas Valley in southern Hidalgo Co., NM. Hemiparasite - an organism that can live independently or parasitically. Castilleja in general is well known to be hemiparasitic, attaching haustoria to adjacent roots of different species. The species of Castilleja in general are reported to grow poorly without a host plant (Heckard 1962, Matthies 1997). Castilleja species usually have no apparent obligate host species, but benefit from parasitizing plants from a range of vascular plant families, such as Poaceae, Polygonaceae, Fabaceae, and Asteraceae. Hemiparasites can acquire host plant toxins and thus toxicity via root transfer.
Conservation Considerations
Castilleja tomentosa is currently known in NM from several thousand plants in at least 7 general locations within the grasslands of the Animas Valley and adjacent Coronado National Forest. Most locations contain a few to 100 plants, with 2 locations numbering as many as 1,000 plants (pers. comm. D. Roth, NMEMNRD). As a result of the restricted area of occurrence and relatively low population, the species is considered globally rare and is sensitive to any form of anthropogenic surface disturbance that modifies habitat and/or removes plants or the seed bank on any but very small scales. The species could be threatened by inattention of land users to its locations, and as a result, subject to local decline or extirpation. Climate change impacts to this species are not documented at this time. However, predicted climate change effects from multiple sources include increase in temperature and reduction of precipitation. These effects will lead to an increased likelihood of a desert scrub community replacing C. tomentosa's desert grassland habitat, with contemporaneous decoupling of supporting biotic and abiotic factors (Finch ed. 2012, Garfin et al. 2013, Triepke 2016). These changes could lead to decline or extinction of C. tomentosa by mid to late century. Additional information is needed on C. tomentosa's distribution, abundance, habitat requirements, pollinators, reproduction, and molecular ecology. Population size and persistence should be monitored. Castilleja tomentosa may be worthy of petitioning and subsequent review for ESA listing. Conservation potential of the species could be improved by education of land owners regarding its sensitivity and locations. Completing population scale seed collection via Center for Plant Conservation guidelines, and accession by a CPC certified botanical garden supporting research into seed germination and plant culture for future population re-establishment is needed.
Important Literature
*Egger, J.M. 2012. The status of Castilleja tomentosa A. Gray (Orobanchaceae) and first records for this species from the United States. Phytoneuron 72: 1–7. (paper hyperlinked) Published 13 Aug 2012. ISSN 2153 733X
Finch, Deborah M., ed. 2012. Climate change in grasslands, shrublands, and deserts of the interior American West: a review and needs assessment. Gen. Tech. Rep. RMRS-GTR-285. Fort Collins, CO: U.S. Department of Agriculture, Forest Service, Rocky Mountain Research Station. 139 p.
Garfin, G., A. Jardine, R. Merideth, M. Black, and S. LeRoy, eds. 2013. Assessment of Climate Change in the Southwest United States: A Report Prepared for the National Climate Assessment. A report by the Southwest Climate Alliance. Washington, DC: Island Press.
Heckard, L.R. 1962. Root parasitism in Castilleja. Bot. Gaz. 124: 21-29.
Matthies, D. 1997. Parasite–host interactions in Castilleja and Orthocarpus. Canadian Journal of Botany 75(8):1252-1260.
Triepke, F.J. 2016. Assessing the climate change vulnerability of ecosystem types of the southwestern U.S. Dissertation, University of New Mexico. Albuquerque, NM. 166 pp.
Information Compiled By
Mark Egger, Mike Howard 2017
For distribution maps and more information, visit Natural Heritage New Mexico