Astragalus micromerius (Chaco milkvetch)
Common Name
Chaco milkvetch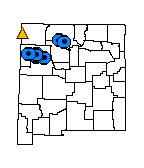 Description
Perennial herb; stems 5-30 cm long, prostrate, silvery-hairy, bearing densely crowded small leaves; leaves 4-20 mm long, pinnately compound with 3-9 leaflets; flowers usually solitary or in pairs, pea-like, about 6 mm long, petals greenish-white with pale purple veins or tips; pods ovoid, 4-5 mm long, slightly longer than broad, unilocular, the tip forming a flattened beak. Flowers July and August.
Similar Species
Astragalus humistratus and A. chuskanus both have a similar prostrate (humistrate) growth form, but both have leaves and flowers at least twice the size of A. micromerius. Also, most of the hairs of A. humistratus are attached in the middle leaving both ends free (dolabriform), whereas A. micromerius and A. chuskanus have basally attached hairs.
Distribution
New Mexico, McKinley, Rio Arriba, and San Juan counties.
Habitat
Gypseous or limy sandstones in piñon-juniper woodland or Great Basin desert scrub; 2,000-2,250 m (6,600-7,300 ft).
Remarks
This diminutive endemic is usually associated with outcrops of sandstone that are blended with Todilto gypsum or limestone. It has a fairly wide range, but is sporadically distributed in isolated populations.
Conservation Considerations
Not significantly threatened by the prevailing land uses within its habitats.
Important Literature
*New Mexico Native Plants Protection Advisory Committee. 1984. A handbook of rare and endemic plants of New Mexico. University of New Mexico Press, Albuquerque.
Barneby, R.C. 1964. Atlas of North American Astragalus. Memoirs of the New York Botanical Garden 13:1-1188.
Isely, D. 1998. Native and naturalized Leguminosae (Fabaceae) of the United States. Monte L. Beane Life Science Museum, Brigham Young University, Provo, Utah.
Information Compiled By
Robert Sivinski 1999
For distribution maps and more information, visit Natural Heritage New Mexico