Astragalus oocalycis (Arboles milkvetch)
Synonyms
DIHOLCOS OOCALYCIS (JONES) RYDBERG, CNEMIDOPHACOS URCEOLATUS RYDBERG
Common Name
Arboles milkvetch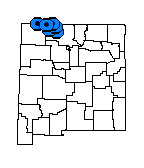 Description
Perennial; stems erect or ascending, 20-40 cm long; herbage green to gray-green; leaves pinnately compound, 5-15 cm long; leaflets 19-27, 2-4 cm long, nearly glabrous above; flowers ochroleucus (yellow-white), in dense 35-60-flowered racemes; calyx densely hirsute with straight or spreading hairs, with age becoming papery and inflated, ovoid or subglobose, up to 14 mm long, 11 mm wide, contracted at the mouth; pods 6-7 mm long, declined, glabrous, grooved on lower side, becoming leathery as they mature. Flowers May to July.
Similar Species
The inflated pubescent calyx of A. oocalycis is especially diagnostic so it should not be confused with any other milkvetch within its range.
Distribution
New Mexico, San Juan and Rio Arriba counties; adjacent Colorado, La Plata and Archuleta counties.
Habitat
Seleniferous clay soils (e.g. Mancos Formation) with sagebrush, piñon-juniper woodland, and transitional areas between piñon-juniper woodland and ponderosa pine forest; often on roadsides, roadcuts, and in other disturbed areas; 1,700-2,200 m (5,600-7,200 ft).
Remarks
Astragalus oocalycis is a selenophyte with a noticeable odor of selenium, which may persist after pressing. This species has a relatively limited distribution of approximately 65 km (40 mi) north/south by 80 km (50 mi) east/west, centered on Navajo Reservoir. Although this species has a restricted area of occurrence, populations may be locally abundant. Since the original collection by Jones in 1895 near Aztec, New Mexico, most early specimens were taken from the Los Pinos River area in Colorado. Subsequent records have extended the range down the Los Pinos drainage into New Mexico.
Conservation Considerations
Highway maintenance and herbicide application for weed control could impact plants that inhabit road rights-of-way. This species occurs in an area of extensive oil and gas development, including a network of service roads. Livestock and wildlife may be expected to avoid this species due to the high concentration of selenium. Frequent observations of A. oocalycis on roadsides and roadcuts suggest that certain kinds of disturbance may increase suitable habitat.
Important Literature
Barneby, R.C. 1964. Atlas of North American Astragalus. Memoirs of the New York Botanical Garden 13:419-422.
*Ecosphere Environmental Services, Inc. 1995. The Farmington District endangered, threatened and sensitive plant field guide. Bureau of Land Management, Farmington District, Farmington, New Mexico.
Isely, D. 1998. Native and naturalized Leguminosae (Fabaceae) of the United States. Monte L. Beane Life Science Museum, Brigham Young University, Provo, Utah.
*New Mexico Native Plant Protection Advisory Committee. 1984. A handbook of rare and endemic plants of New Mexico. University of New Mexico Press, Albuquerque.
Information Compiled By
Bill Hevron 2000
For distribution maps and more information, visit Natural Heritage New Mexico