Cirsium vinaceum (Sacramento Mountains thistle)
Synonyms
CARDUUS VINACEUS WOOTON & STANDLEY
Common Name
Sacramento Mountains thistle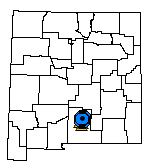 Description
Stout rhizomatous biennial with a robust basal rosette; stem 1.0-1.8 m tall, with many ascending, brown-purple branches; basal leaves green, glabrous, 3-5 dm long, up to 2 dm wide, ragged-edged, divided nearly to the midrib, the divisions tipped with slender yellow spines; stem leaves sessile, similar to basal leaves but reduced in size; flower heads numerous, solitary at the ends of branches, campanulate, 5 cm in diameter and almost as high; involucral bracts in several ranks, deep red-purple, reflexed at about the middle, narrowly lanceolate, tipped with short yellowish spines; flowers rose-purple; achenes obovate, brown, glabrous, with a tawny plumose pappus 15-20 mm long. Flowers July to September.
Similar Species
Carduus nutans (musk thistle) is superficially similar being about the same size, with solitary flower heads at the ends of branches, reflexed involucral bracts, and rose-purple flowers.
Distribution
New Mexico, Otero County, in 6 large canyon drainages in the southern part of the Sacramento Mountains.
Habitat
Wet soils at springs, seeps, and along streams in meadows or forest margins at 2,300-2,900 m (7,500-9,500 ft). The water is high in calcium carbonate that precipitates out to form large travertine mounds at some of the springs. Cirsium vinaceum may grow in almost pure stands on some of these mounds.
Remarks
Cirsium vinaceum can be very abundant in its limited habitat due to rhizomatous reproduction that produces dense pure stands. There are 10 meta-populations (containing 43 sites) distributed over a stretch of about 20 miles above 7,500 ft.
Conservation Considerations
Cirsium vinaceum is eaten by livestock and can be the preferred forage. It may provide some of the only green forage during droughts. Dipsacus sylvestris (teasel) and Carduus nutans, both introduced exotics, are increasing in the Sacramento Mountains and occupy similar habitats as Cirsium vinaceum. Two weevils, including a seedhead weevil (Rhinocyllus conicus) introduced to control musk thistle also significantly impact Cirsium vinaceum. Herbicide application, long-term drought, and future water diversions are additional threats to this species.
Important Literature
*New Mexico Native Plants Protection Advisory Committee. 1984. A handbook of rare and endemic plants of New Mexico. University of New Mexico Press, Albuquerque.
*U.S. Fish and Wildlife Service. 1993. Sacramento Mountains thistle (Cirsium vinaceum) recovery plan. U.S. Fish and Wildlife Service, New Mexico Ecological Services Field Office, Albuquerque, New Mexico.
Wooton, E.O. and P.C. Standley. 1915. Flora of New Mexico. Contributions from the U.S. National Herbarium 19:1-794.
Wooton, E.O. and P.C. Standley. 1913. Descriptions of new plants preliminary to a report upon the flora of New Mexico. Contributions from the U.S. National Herbarium 16:109-196.
Roth, D. 2013. Status Report - Cirsium vinaceum (Sacramento Mountains thistle). Unpublished report prepared by EMNRD - Forestry Division, Santa Fe, NM, for the USFWS, Region 2, Albuquerque, NM (Section 6, Segment 27).
Sivinski, R.C. 2016. New Mexico thistle identification guide. Prepared for the Native Plant Society of New Mexico, Albuquerque. Available at: https://www.npsnm.org/education/thistle-identification-booklet/
Information Compiled By
Charlie McDonald 1999; last updated 2016 (D. Roth)
For distribution maps and more information, visit Natural Heritage New Mexico