Cylindropuntia viridiflora (Santa Fe cholla)
Synonyms
OPUNTIA VIRIDIFLORA BRITTON & ROSE; OPUNTIA IMBRICATA HAWORTH VAR. VIRIDIFLORA D. WENIGER [COMB. ILLEG.]; OPUNTIA WHIPPLEI VAR. VIRIDIFLORA (BRITTON & ROSE) L. BENSON
Common Name
Santa Fe cholla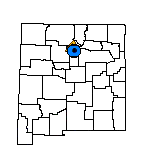 Description
Plants shrubby, much-branched to about 0.8 m in height and about 2 meters across; main stems with lateral "joints" primarily in whorls at ends of each year's growth, some of these elongating into secondary main stems; stems 1.5-2 cm thick; lateral joints about 10-15 cm long, readily detached; stems with about 8 rows of longitudinally elongate tubercles, each tubercle about 1.5-2 cm long and bearing an areole near the apical end; spines apically barbed, 2-8 per areole on young stems (often more on older stems), 2-2.5 cm long, mostly brownish, epidermis forming a pale-purplish, pinkish, or brownish loose sheath; flowers 2-2.5 cm in diameter, comparatively brownish-orange in the center with greenish peripheral tepals (varying to a purplish-brownish-red); fruits tuberculate, firm and leathery, not juicy, yellow when ripe, persistent, 1.5-2.5 cm in diameter; seeds covered in a hard pale-yellowish aril, discoid with a narrow not prominent rim, about 3 mm in diameter. Flowers in July.
Similar Species
Cylindropuntia davisii is lower growing, has softer stems, yellow spine sheaths, tuberous roots, and green sterile flowers. Cylindropuntia whipplei is typically lower growing, joints are rigidly attached, spine sheaths vary but are most often yellow or white, and flowers are yellow to yellow-green. Cylindropuntia imbricata is larger, stems are thicker, joints are rigidly attached, and flowers are normally lavender-pink to rich magenta (rarely white).
Distribution
New Mexico, Santa Fe County.
Habitat
Gravelly rolling hills in pinion-juniper woodland; 1,770-2,200 m (5,800-7,200 ft).
Remarks
Despite this plant's name, the flowers are not very green. The Santa Fe cholla is known from only three areas between Santa Fe and Chimayo. It is often held that O. viridiflora is a hybrid derived from O. imbricata O. whipplei. All plants produce full crops of fertile seed which when germinated show individual variation, never toward any supposed parent, but rather well within the norm for O. viridiflora. Grossly similar plants of O. imbricata O. whipplei hybrid origin are known from areas where the species are sympatric, such as La Plata, Colorado; Thoreau, New Mexico; and the Petrified Forest National Monument, Arizona.
Conservation Considerations
Populations of this species are impacted by urban development and human activity. This species is subject to a fungal disease believed to be Gleosporium lunatum.
This plant is being grown at the Rio Grande Botanic Garden in Albuquerque for display, public education, research, and conservation of the wild populations. Three conservation sites have been established from plant cuttings on private lands in the Santa Fe area in 2015, 1017, and 2018. The species is available in the commercial trade.
Important Literature
*New Mexico Native Plants Protection Advisory Committee. 1984. A handbook of rare and endemic plants of New Mexico. University of New Mexico Press, Albuquerque.
*Weniger, D. 1970. Cacti of the Southwest. University of Texas Press, Austin.
Information Compiled By
David J. Ferguson 1999. Updated 2018.
For distribution maps and more information, visit Natural Heritage New Mexico