Delphinium alpestre (Alpine larkspur)
Common Name
Alpine larkspur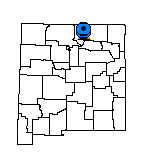 Description
Perennial herb 5-25 cm tall; leaves all on stem, but crowded near base, petioles 1-10 cm long, blades 2-5 cm long and about as wide, palmately divided into 5 main lobes, each lobe further dissected into smaller lobes; inflorescence a raceme of 2-8 flowers; sepals dull blue or dull blue tinged with brown, especially on the back, spreading or forward-pointing, 11-14 mm long, the upper sepal extended basally into a spur 8-12 mm long; lower petal blades cleft, 4-6 mm long. Flowers July to September.
Similar Species
Our other montane larkspur species are usually much taller. Delphinium ramosum is morphologically very similar, but is a taller plant (> 50 cm) and occurs at somewhat lower elevations.
Distribution
New Mexico, Taos County, Sangre de Cristo Mountains; adjacent south-central Colorado.
Habitat
Alpine tundra and open meadows in subalpine coniferous forest; 3,500-3,950 m (11,500-13,000 ft).
Remarks
This is our smallest high-elevation larkspur species. Some botanists believe it to be only a high elevation form of Delphinium ramosum.
Conservation Considerations
The remote and relatively inaccessible habitats of this species provide it with a large degree of protection from land use impacts. Some species of Delphinium are poisonous to cattle, so the genus as a whole is sometimes targeted for poisonous weed control.
Important Literature
*New Mexico Native Plants Protection Advisory Committee. 1984. A handbook of rare and endemic plants of New Mexico. University of New Mexico Press, Albuquerque.
Warnock, M.J. 1997. Delphinium, pp. 196-240 In: Flora of North America Editorial Committee (eds.). Flora of North America, Magnoliophyta: Magnoliidae and Hamamelidae, Vol. 3. Oxford University Press, New York, New York.
Information Compiled By
Robert Sivinski 1999
For distribution maps and more information, visit Natural Heritage New Mexico