Delphinium sapellonis (Sapello Canyon larkspur)
Common Name
Sapello Canyon larkspur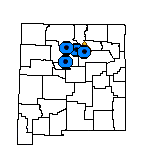 Description
Perennial herb 1.0-1.8 m tall; lower part of stem glabrous, usually green, but sometimes reddish; leaves all on stem and absent from the stem base at the time of anthesis, petioles 5-12 cm long, blades 8-16 cm long and 6-10 cm wide, palmately divided into 5 main lobes and each lobe further dissected into additional lobes or teeth; inflorescence of racemes (often branched) with 20-100 flowers, branches and pedicels with short hairs; sepals brownish- or yellowish-purple in bud and with age, glandular, hairy, lateral sepals forward pointing, 8-12 mm long, the upper sepal extended basally into a spur 8-11 mm long; petal blades, cleft, 3-5 mm long, covered with long yellowish hairs. Flowers July to September.
Similar Species
This is the only tall Delphinium in northern New Mexico with yellowish or brownish purple flowers. Delphinium robustum is morphologically very similar, but has blue or lavender flowers that are less hairy. The young (in bud) sepals of Delphinium novomexicanum in south-central New Mexico are bluish-purple to lavender, while the sepals (in bud) of Delphinium sapellonis are yellowish or brownish purple. The lower stems of D. novomexicanum are also usually bluish-green versus the green or reddish lower stems of D. sapellonis.
Distribution
New Mexico, Bernalillo, Los Alamos, Mora, Sandoval, San Miguel, Santa Fe counties, Jemez, Sandia, and southern Sangre de Cristo mountains.
Habitat
Canyon bottoms and aspen groves in lower and upper montane coniferous forest; 2,450-3,500 m (8,000-11,500 ft).
Remarks
This is a tall larkspur with rather drab flowers. It is fairly common in the Sandia Mountains, but sporadically distributed and relatively rare elsewhere. Delphinium sapellonis is very closely related to D. novomexicanum of the Sacramento-White mountains. They are sometimes not readily distinguishable, except by geographic range. Additional systematic research is needed for this species group. 
Conservation Considerations
Population size has never been assessed for this species. Its response to forest fire and grazing have not been studied. Some species of Delphinium are poisonous to cattle, so the genus as a whole is sometimes targeted for poisonous weed control.
Important Literature
Warnock, M.J. 1997. Delphinium, pp. 196-240 In: Flora of North America Editorial Committee (eds.). Flora of North America, Magnoliophyta: Magnoliidae and Hamamelidae, Vol. 3. Oxford University Press, New York, New York.
Ewan, J. 1945. A synopsis of the North American species of Delphinium. University of Colorado Studies, Series D 2(2):55-244.
*Ivey, R.D. 1995. Flowering plants of New Mexico, 3rd edition. Published by the author, Albuquerque.
Information Compiled By
Robert Sivinski 1999
For distribution maps and more information, visit Natural Heritage New Mexico