Erigeron subglaber (Pecos fleabane)
Common Name
Pecos fleabane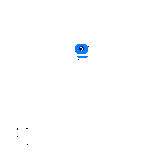 Description
Low perennial; stems 3-8 cm tall, nearly hairless; leaves to 6 cm long, sparsely hairy mostly along the margins; basal leaves broader above the middle; stem leaves smaller than the basal and often linear; flower heads solitary on each stem; involucral bracts smooth and often purplish at the tip; ray flowers 25-35, purplish or bluish; achenes 2-nerved, somewhat hairy; pappus of sordid capillary bristles. Flowers in August and early September.
Similar Species
Erigeron leiomerus differs in having glandular involucral bracts and generally broader leaves.
Distribution
New Mexico, northwestern San Miguel and Mora counties, Sangre de Cristo Mountains.
Habitat
Rocky, open meadows in subalpine coniferous forest; 3,050-3,500 m (10,000-11,500 ft).
Remarks
Narrowly endemic and sporadically distributed on some high ridges and peaks of the Sangre de Cristo Mountains. The largest known concentration of this species is on the Elk Mountain Ridge of the southern Pecos Wilderness.
Conservation Considerations
A radio tower and associated road have impacted one of the larger populations of this plant. Other known populations are in remote wilderness areas. Impacts of grazing, climate change and wildfires have not been studied.
Important Literature
*New Mexico Native Plants Protection Advisory Committee. 1984. A handbook of rare and endemic plants of New Mexico. University of New Mexico Press, Albuquerque.
Cronquist, A. 1947. A revision of the North American species of Erigeron north of Mexico. Brittonia 6(2):121-302.
*Ivey, R.D. 1995. Flowering plants of New Mexico, 3rd edition. Published by author, Albuquerque, New Mexico.
Information Compiled By
Robert Sivinski 1998, updated 2016.
For distribution maps and more information, visit Natural Heritage New Mexico