Eriogonum gypsophilum (Gypsum wild buckwheat)
Common Name
Gypsum wild buckwheat
Rare Plant Conservation Scorecard Summary

| Overall Conservation Status | Documented Threats | Actions Needed |
| --- | --- | --- |
| WEAKLY CONSERVED | Oil & gas development, Recreation (OHVs) | Population trend monitoring. Status surveys on abundance, distribution and threats. Use other New Mexico locations to mine gypsum. Study reproduction. |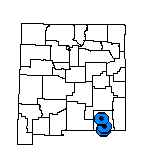 Description
Tufted, herbaceous, perennial, growing from a woody base; leaves basal, dark green, thick, glabrous above, sparsely hairy beneath, blade ovate to reniform, 1.0-2.0 cm long, 1.5-2.5 cm wide, petiole often longer than the blade; inflorescence an open leafless cyme, 12-20 cm tall; involucres in clusters at the ends of inflorescence branches, campanulate, 4 or 5-toothed, each with 6 flowers; flowers yellow with 6 tepals about 2 mm long. Flowers May through June.
Similar Species
Other species of Eriogonum in this area with yellow flowers have woolly basal leaves or are annuals.
Distribution
New Mexico, Eddy County, the 3 known locations are north of Carlsbad at Seven River Hills, south of Black River Village, and in the drainages of Ben Slaughter Draw and Hay Hollow.
Habitat
Restricted to almost pure gypsum that is sparsely vegetated with other gypsophilous plants such as Coldenia hispidissima, Mentzelia humilis, and Anulocaulis leiosolenus; 1,000-1,100 m (3,280-3,600 ft).
Remarks
This distinct species has no known close relatives.
Conservation Considerations
Oil and gas development is occurring throughout the range of this species. The gypsum deposits on which this plant occurs could be mined, but New Mexico has many other gypsum deposits of higher quality. Off-road vehicles were damaging the habitat at Seven River Hills in the past, but the area was closed and the old damage is healing.
Important Literature
*New Mexico Native Plants Protection Advisory Committee. 1984. A handbook of rare and endemic plants of New Mexico. University of New Mexico Press, Albuquerque.
Knight, P.J. 1993. A status review of gypsum wild buckwheat. U.S. Fish and Wildlife Service, New Mexico Ecological Services Field Office, Albuquerque, New Mexico.
Reveal, J.L. 1976. Eriogonum (Polygonaceae) of Arizona and New Mexico. Phytologia 34(5):409-484.
*U.S. Fish and Wildlife Service. 1984. Gypsum wild buckwheat (Eriogonum gypsophilum) recovery plan. U.S. Fish and Wildlife Service, New Mexico Ecological Services Field Office, Albuquerque, New Mexico.
*Wooton, E.O. and P.C. Standley. 1913. Descriptions of new plants preliminary to a report upon the flora of New Mexico. Contributions from the U.S. National Herbarium 16:109-196.
Information Compiled By
Charlie McDonald 1999
For distribution maps and more information, visit Natural Heritage New Mexico