Panicum mohavense (Mohave panicum)
Common Name
Mohave panicum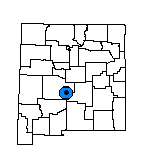 Description
Annual, much branched at base, 2-8 cm tall; culms erect, with 1 node, papillose-pilose, mostly obscured by the leaves; leaves with prominently veined, papillose-pilose sheaths; ligules 0.2 mm long, membranous and with short hairs; blades 1-4 cm long, 1-3 mm wide, glabrous on both surfaces or sometimes papillose-pilose on lower surface; inflorescences short congested panicles that are overtopped by the leaves; spikelets about 2 mm long; lower glume one-nerved, about 0.6-0.7 mm long; upper glume and sterile lemma equal and scarcely covering the upper floret; palea absent; upper floret about 1.5 mm long; stigmas and anthers purple, anthers about 1 mm long. Flowers August and September.
Similar Species
The small size and congested growth form of this species make it likely that it could be mistaken for a depauperate form of a more robust Panicum species. It is easily distinguished from other panicums by its small size (less than 10 cm tall), panicles that do not surpass the leaves, and the upper glume and sterile lemma scarcely covering the upper floret.
Distribution
New Mexico: Socorro County; Arizona: Mohave, Yavapai, Coconino, Navajo counties.
Habitat
Limestone terraces and cliffs in Great Basin desert scrub in Arizona and piñon-juniper woodland in New Mexico; 1,370-2,380 m (1,300-2,400 ft).
Remarks
All Arizona specimens were collected in the same general area. Only one occurrence consisting of three individuals has been reported in New Mexico. The New Mexico population could not be relocated during a 1990 survey.
Conservation Considerations
Because this species appears to be very rare, direct adverse impact to known populations should be avoided. Additional field surveys are needed to determine the habitat requirements and abundance of this rare grass.
Important Literature
Arizona Game and Fish Department. 1999. Unpublished abstract compiled and edited by the Heritage Data Management System, Arizona Game and Fish Department, Phoenix, Arizona.
*Reeder, J.A. 1991. A new species of Panicum (Gramineae) from Arizona. Phytologia 71(4): 300-303.
Spellenberg, R., D. Anderson and R. Brozka. 1993. Noteworthy collections. Madroño 40(2): 136-137.
Information Compiled By
Juanita A.R. Ladyman 1999; updated 2017
For distribution maps and more information, visit Natural Heritage New Mexico