Penstemon metcalfei (Metcalfe's penstemon)
Synonyms
PENSTEMON PUBERULUS WOOTON & STANDLEY NOT N.E. JONES
Common Name
Metcalfe's penstemon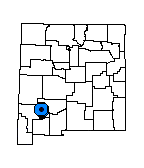 Description
Perennial from a slender, creeping, woody rhizome; stems few, usually erect, up to 4 dm high, puberulent throughout, glandular above; leaves entire, the lower ovate, the upper lanceolate, thin, minutely puberulent, amplexical, the upper sessile, the lower on slender winged petioles; inflorescence a short interrupted thryse; flowers on pedicels 1 cm long or less; peduncles and pedicels glandular; calyx glandular-pubescent, lobes green, linear-lanceolate, separate almost to base; corolla funnelform, not gibbous, two-lipped, up to 17 mm long, basal one-third of corolla tube light blue-purple, exterior somewhat glandular-pubescent, apical two-thirds white with deep purple veins, lobes darker blue-purple, side lobes of the lower lip diverging about 45, lower lip white tomentose within; anthers not explanate; staminode not or slightly exserted, not expanded at the apex, and with a heavy golden beard up to its length. Flowers July and August.
Similar Species
The allopatric Penstemon pseudoparvus, the most closely related species, is distinguished by its much reduced stem leaves and nearly naked inflorescence. The stem leaves of P. metcalfei are gradually reduced up the stem and the bracts of the verticillasters are relatively large. The habit of P. whippleanus is very similar, but that species is readily distinguished by its explanate (fully open like a saucer) anthers and glabrous stems.
Distribution
New Mexico, Sierra County, Black Range.
Habitat
Cliffs or steep, north-facing slopes in lower and upper montane coniferous forest; 2,000-2,900 m (6,600-9,500 ft).
Remarks
It is presently known from a small region of the Black Range in Trujillo and Percha canyons.
Conservation Considerations
All presently known locations of this very rare species are in remote, roadless areas, all of which burned during the 2013 Silver Fire. Some plants survived but long term persistence is questionable under severely altered habitat conditions. The species should be closely monitored.
Important Literature
*Heflin, J. 1997. Penstemons: The beautiful beardtongues of New Mexico. Jackrabbit Press, Albuquerque, New Mexico.
Wooton, E.0. and P.C. Standley. 1909. A new name - Penstemon metcalfei. Torreya 9:145.
Wooton, E.0. and P.C. Standley. 1909. Plants from New Mexico. Bulletin of the Torrey Botanical Club 36:112.
Todsen, T.K. 1998. Penstemon metcalfei (Scrophulariaceae), a valid species. Sida 18(2):621-622.
Roth, D. 2016. Wildfire Impacts on Species of Concern Plants in the Gila National Forest, New Mexico. Unpublished report prepared by EMNRD-Forestry Division, Santa Fe, NM for the U.S. Fish & Wildlife Service, Region 2, Albuquerque, NM. 48 pp.
Information Compiled By
Tom Todsen 1998; updated 2016
For distribution maps and more information, visit Natural Heritage New Mexico