Argemone pinnatisecta (Sacramento prickly poppy)
Synonyms
ARGEMONE PLEIACANTHA GREENE SSP. PINNATISECTA G.B. OWNBEY; ARGEMONE PLEIACANTHA GREENE VAR. PINNATISECTA (G.B. OWNBEY) SHINNERS
Common Name
Sacramento prickly poppy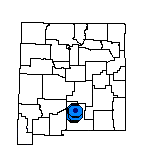 Description
Robust, herbaceous perennial, with 3-12 branching stems, 0.5-1.5 m tall; leaves blue-green, 10-15 cm long, divided, the sinuses broad and square, margins, midribs, and veins armored with stout yellow spines; stem and leaf latex white; flowers large and showy; sepals 2-3, caducous, prickly, each with a subterminal horn; petals 6, white, 3-4 cm long, 8-9 cm wide; stamens numerous, anthers yellow; capsule with many fine spines, none branched; seeds round, black, 2.5 mm in diameter. Flowers May to August.
Similar Species
Argemone pleiacantha, which is common, has less deeply divided leaves, denser capsule spines branched at the base, and yellow-orange stem latex.
Distribution
New Mexico, Otero County, in 10 canyons on the western slope of the Sacramento Mountains from Fresnal Canyon on the north to Escondido Canyon on the south.
Habitat
Loose, gravelly soils of open disturbed sites; canyon bottoms and slopes, and sometimes along roadsides; 1,300-2,200 m (4,200-7,100 ft).
Remarks
The number of plants was about 1,300 in the late 1980s, but appears to have declined in recent years. The reasons are unknown; it is speculated plant establishment is very episodic. This rare species appears to be secondary successional. Individual plants are necessary to maintain seed production but disturbance within the habitat may not adversely affect the population in the long run.
Conservation Considerations
Activities like highway maintenance or pipeline construction could destroy some plants, but may also create suitable habitat.
This plant is being grown at the Rio Grande Botanic Garden in Albuquerque for display, public education, research, and conservation of the wild populations.
Important Literature
*New Mexico Native Plants Protection Advisory Committee. 1984. A handbook of rare and endemic plants of New Mexico. University of New Mexico Press, Albuquerque.
*Ownbey, G.B. 1958. The genus Argemone for North America and the West Indies. Memoirs of the Torrey Botanical Club 21:1-159.
*U.S. Fish and Wildlife Service. 1994. Sacramento prickly poppy (Argemone pleiacantha ssp. pinnatisecta) recovery plan. U.S. Fish and Wildlife Service, New Mexico Ecological Services Field Office, Albuquerque, New Mexico.
*Cervantes, S.D., P. Tonne, R. Govindarajulu, P.J. Alexander and C.D. Bailey. 2010. Population genetic analysis of Argemone pleiacantha subsp. pinnatisecta (Sacramento prickly poppy, Papaveraceae) and re-evaluation of its taxonomic status. Journal of the Botanical Research Institute of Texas 4(1):261-269.
Shinners, L.H. 1958. New varietal names in Argemone (Papaveraceae). Southwestern Naturalist 3:213-214.
Information Compiled By
Charlie McDonald 1999; last updated 2010
For distribution maps and more information, visit Natural Heritage New Mexico