Perityle cernua (Nodding cliff daisy)
Synonyms
LAPHAMIA CERNUA GREENE; PAPPOTHRIX CERNUA (GREENE) RYDBERG
Common Name
Nodding cliff daisy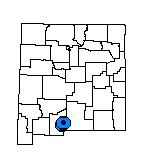 Description
Low, tufted perennial from a woody base; stems leafy, to about 10 cm long; leaves alternate or opposite, petioles very short, blades broadly rounded-triangular, thick, fleshy, 2-3 cm wide, margins toothed; flower heads golden-yellow, rayless, solitary, held barely above the leaves on nodding peduncles; involucral bracts 15-20, about 8 mm long; disk flowers 50-75; pappus of 20-35 bristles at the summit of a partially flattened achene. Flowers June to September.
Similar Species
A number of cliff-dwelling species of Perityle are superficially similar. This one is distinguished from the others by the numerous bristles on the achenes and the large, solitary, nodding heads (when young). No similar species occur in the area of P. cernua.
Distribution
New Mexico, Dona Ana County, Organ Mountains.
Habitat
Igneous cliffs, primarily on rhyolite, occasionally on andesite; 1,520-2,680 m (5,000-8,800 ft).
Remarks
A narrow endemic of the Organ Mountains.
Conservation Considerations
This is a cliff dwelling species and, therefore, its habitats are relatively inaccessible. Hot fires up the canyons are a potential threat to habitats with high fuel loads. Rock climbers can also cause localized impacts, but because it occurs mostly on lands that are off-limits to the general public, this is not a serious issue.
Important Literature
*New Mexico Native Plants Protection Advisory Committee. 1984. A handbook of rare and endemic plants of New Mexico. University of New Mexico Press, Albuquerque.
Niles, W.E. 1970. Taxonomic investigations in the genera Perityle and Laphamia (Compositae). Memoirs of the New York Botanical Garden 21:1-82.
Powell, A.M. 1969. Taxonomy of Perityle section Pappothrix (Compositae: Peritylinae). Rhodora 72:58-93.
Information Compiled By
Patricia Barlow-Irick, Juanita A.R. Ladyman, Yvonne Chauvin 1999
For distribution maps and more information, visit Natural Heritage New Mexico