Asclepias sanjuanensis (San Juan milkweed)
Common Name
San Juan milkweed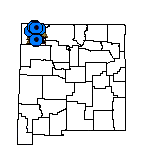 Description
Herbaceous perennial; stems from a subterranean woody root crown, 4-8 cm tall, prostrate to ascending; leaves 2-4 cm long, oblong-lanceolate, white tomentulose on leaf margins; inflorescence a terminal umbel with 4-15 flowers; corolla browish purple; follicle 3.5-6.5 mm long. Flowers late April and early May.
Similar Species
Asclepias uncialis has narrower leaves and distinct marginal lobes on the hoods of the floral crown. Asclepias ruthiae is more pubescent on the leaf surfaces and has fewer (2-6) flowers in each inflorescence. Both the former species are allopatric with A. sanjuanensis. The sympatric A. involucrata is easily distinguished by its greenish white petals.
Distribution
New Mexico, San Juan County.
Habitat
Sandy loam soils, usually in disturbed sites, in juniper savanna and Great Basin desert scrub; 1,500-1,700 m (5,000-5,500 ft).
Remarks
Asclepias sanjuanensis and A. ruthiae have previously been combined as a variety of A. uncialis var. ruthiae. Recent isozyme studies by Jay Therrien have shown A. sanjuanensis and A. ruthiae to be genetically distinguishable populations, and he suggests that plants may be self-compatable. Their relationships to A. uncialis still need clarification. Asclepias sanjuanensis is never abundant at any one location. During dry years this plant may not bloom.
Conservation Considerations
Livestock grazing has no direct effect on this species. Urban development and land conversions to irrigated agriculture may impact large areas of this plants habitat. Associated soil disturbance may have created additional habitat opportunities.
Important Literature
*Heil, K., J.M. Porter and S.L. Welsh. 1989. A new species of Asclepias (Asclepiadaceae) from northwestern New Mexico. Great Basin Naturalist 49:100-103.
Therrien, J.P. 1999. Genetic diversity in two rare milkweeds from the southwestern United States. Southwestern Naturalist 44:247-255.
Information Compiled By
Ken Heil, Joey Herring 1999
For distribution maps and more information, visit Natural Heritage New Mexico