Cymopterus davidsonii (Davidson's cliff carrot)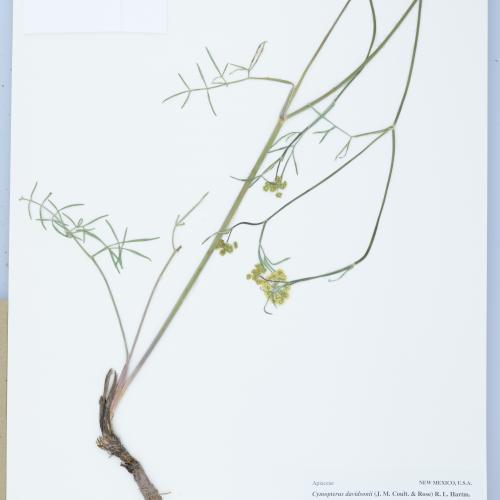 Synonyms
ALETES DAVIDSONII COULTER & ROSE; PSEUDOCYMOPTERUS DAVIDSONII (COULTER & ROSE) MATHIAS; PTERYXIA DAVIDSONII (COULTER & ROSE) MATHIAS & CONSTANCE
Common Name
Davidson's cliff carrot
Description
Perennial herb; stems 15-40 cm tall, branching above, faintly scabrous-hairy; leaves oblong to somewhat oblong-oval in outline, blade 1.5-14 cm long, 1-9 cm wide, 2- to 3-times pinnately parted, the ultimate divisions linear, acute-mucronate at tips, 1-30 mm long, 1-3 mm wide; petioles 1-7 cm long; stem leaves several; each stem terminated by a compound umbel with 5-9 primary branches (rays); rays 5-30 mm long, primary bracts either absent or broad and partially enclosing the primary branches; secondary bracts filamentous and subtending the terminal flower clusters; flowers yellow or purple; pedicels 1-5 mm long; fruits oblong, 3-4 mm long, 1-2 mm wide, smooth at maturity, with narrow lateral wings. Flowers in August.
Similar Species
The differences between this species and Cymopterus lemmonii are slight. In general, C. lemmonii has fewer stem leaves and somewhat larger fruits with broader wings.
Distribution
New Mexico, Catron and Grant counties, Mogollon Mountains and Pinos Altos Range; adjacent eastern Arizona.
Habitat
Cool, rocky places in piñon-juniper woodland and lower montane coniferous forest; 1,980-2,440 m (6,500-8,000 ft).
Remarks
This plant is rarely collected and poorly understood. Hartman (2006) circumscribes Cymopterus to include Oreoxis, Pseudocymopterus, and Pteryxia.
Conservation Considerations
The distribution, abundance, and habitat requirements for this species are poorly known and need additional study. The rocky, inaccessible habitats of known populations offer some protection from land use impacts.
Important Literature
Mathias, M.L. 1930. Studies in the Umbelliferae III: A monograph of Cymopterus including a critical study of related genera. Annals of the Missouri Botanical Garden 17:213-467.
*New Mexico Native Plants Protection Advisory Committee. 1984. A handbook of rare and endemic plants of New Mexico. University of New Mexico Press, Albuquerque.
Hartman, R.L. 2006. New combinations in the genus Cymopterus (Apiaceae) of the southwestern United States. Sida 22(2):955-957.
Information Compiled By
Robert Sivinski 1999; last updated 2006
For distribution maps and more information, visit Natural Heritage New Mexico