Astragalus altus (Tall milkvetch)
Synonyms
ATELOPHRAGMA ALTUM (WOOTON & STANDLEY) RYDBERG
Common Name
Tall milkvetch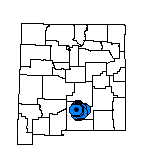 Description
Perennial; stems several, reddish, ascending, up to 1.2 m long, the tallest plants often supported by adjacent vegetation; leaves to 12 cm long, pinnately compound, with 15-25 ovate leaflets, sparsely pubescent with fine, straight, appressed hairs; flowers pea-like, cream to pale yellow, about 1 cm long, many per raceme; pods hanging down, about 15 mm long (including stipe), triangular in cross-section and grooved on the lower side, each pod with a stipe (basal stalk) 6-10 mm long. Flowers late May to September.
Similar Species
Astragalus giganteus is the only other tall, pale yellow-flowered milkvetch in the Sacramento Mountains. It is easily distinguished by its densely pubescent (tomentose) herbage and erect, sessile pods.
Distribution
New Mexico, northeastern Otero County, Sacramento Mountains.
Habitat
Limestone soils on steep slopes and road cuts in lower montane coniferous forest; 1,900-2,500 m (6,500-8,200 ft).
Remarks
A narrow endemic inhabiting the forests around Cloudcroft. It was originally known from only three collections made in 1889 and 1891, then was not found again until 1968. There are now approximately 30 known locations for this species on public lands; additional locations are on tribal lands. It often inhabits road cuts and other sites for some years after disturbance, and may be generally increasing with the increase of road building within its geographic area.
Conservation Considerations
Highway maintenance and herbicide application for weed control could impact plants inhabiting road rights-of-way. Residential and recreational development in the area is extensive. The effects of forest fire on this species have not been studied. These plants are occasionally browsed by deer or elk, but its palatability to livestock has not been determined.
Important Literature
*New Mexico Native Plants Protection Advisory Committee. 1984. A handbook of rare and endemic plants of New Mexico. University of New Mexico Press, Albuquerque.
Barneby, R.C. 1964. Atlas of North American Astragalus. Memoirs of the New York Botanical Garden 13:1-1188.
Isley, D. 1998. Native and naturalized Leguminosae (Fabaceae) of the United States. Monte L. Bean Life Science Museum, Brigham Young University, Provo, Utah.
Spellenberg, R. 1974. Chromosome number as an indication of relationships of Astragalus, with descriptive notes on A. altus. Southwestern Naturalist 18(4):393-396.
Information Compiled By
Robert Sivinski 1999
For distribution maps and more information, visit Natural Heritage New Mexico