Mentzelia todiltoensis (Todilto stickleaf)
Common Name
Todilto stickleaf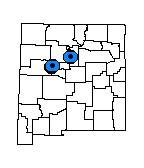 Description
Perennial herb; stems several from the base, white, stout, leafy, 2.2-8 dm tall, sparsely covered with minute, reflexed or spreading barbed hairs; basal leaves not persistent; stem leaves entire or with a few short laciniate lobes, linear to narrowly oblanceolate, revolute or flat, up to 11.5 cm long, 0.5-3.8 mm wide; leaf hairs sparse, bases pustulate; inflorescence corymbosely-branched on upper part of stems with a single flower terminating the several branches; flowers sessile or subsessile, subtended by linear, entire or remotely laciniate bracts; calyx lobes spreading or reflexed in fruit; corolla and stamens sulfur yellow when opening, quickly fading to creamy white when fully open; petals usually 10 (9-12), oblanceolate, 11-13 mm long, 2.5-4 mm wide; staminodia absent or in 1 whorl, abruptly grading to fertile stamens with progressively narrower and shorter filaments; capsules subcylindrical, 8-12 mm long, 5-6 mm wide; seeds lenticular, winged. Flowers open in the evening hours, late June through September.
Similar Species
Mentzelia perennis is a shorter, yellow-flowered species that also occurs on gypsum outcrops, but on the gypseous strata of the Yeso Formation of south-central New Mexico. Some populations of M. perennis may also have entire leaves, but they are wider (more than 4 mm) and can be basally persistent on a caespitose caudex. Mentzelia humilis is also a strong perennial that occurs on gypsum (or caliche), but in southeastern New Mexico. Its leaves are rarely entire and usually pectinate-laciniate. Mentzelia humilis has only 5 very narrow petals (about 3 mm wide) and several narrow, petal-like staminodia that quickly fade to bright white when the flowers open. Mentzelia multiflora also has pale yellow flowers (sometimes creamy white) with 10 petals, but is a biennial with branching stems; has broader, sinuate-dentate or laciniate leaves and bracts; and broader petals (more than 5 mm wide).
The scattered, discontinuous gypsum outcrops of the Todilto and Yeso formations in central and south-central New Mexico have many different forms of perennial Mentzelia that appear to be derived from introgressive crossing between M. multiflora and M. humilis. Some of these forms have not been described and lack published names. Mentzelia todiltoensis is distinctive in these taxonomically frustrating Mentzelia populations on New Mexico gypsum by possessing numerous leafy stems and long, linear leaves with relatively sparse pubescence.
Distribution
New Mexico, western Bernalillo County, eastern Cibola County, western Santa Fe County, and reported without location in Socorro County.
Habitat
Outcrops of gypsum in the Todilto Formation; 1,700-1,910 m (5,600-5,840 ft).
Remarks
Atwood and Welsh (2005) included Socorro County in the distributional range of Mentzelia todiltoensis, but did not cite a specimen from that county. If it does occur in Socorro County, it would occur on Yeso Formation gypsum, since the Todilto Formation gypsum does not outcrop in that county (Weber and Kottlowski 1959). Atwood and Welsh (2005) also describe M. todiltoensis as a yellow-flowered species. However, the flowers are pale yellow only as they begin to open (and when dried) and quickly fade to creamy white when fully open.
The two known population centers of M. todiltoensis are widely disjunct, but morphologically very similar. Some intervening outcrops of Todilto gypsum in Sandoval County, southern Santa Fe County, and northeastern Bernalillo County have not been thoroughly searched and may have additional populations.
Conservation Considerations
Significant impacts caused by feral horses in the Sierra Lucero area in Cibola County have been documented. The gypsum habitat in Santa Fe County is presently being surface mined at Rosario. Todilto gypsum outcrops at the southern populations in Bernalillo and Cibola counties have high quality gypsum that is not presently being mined. This plant also occurs on the low-quality gypsum of outcrop margins where it is unlikely to be impacted by gypsum mining. Additional field surveys are needed to determine the size and extent of known populations and to locate any additional populations.
Important Literature
*Atwood, N.D. and S.L. Welsh. 2005. New species of Mentzelia (Loasaceae) and Phacelia (Hydrophyllaceae) from New Mexico. Western North American Naturalist 65(3):365-370.
Roth, D. 2016. Status Survey for Gypsum Townsend's Aster (Townsendia gypsophila), Sivinski's Scorpionweed (Phacelia sivinskii), Todilto Stickleaf (Mentzelia todiltoensis), and Tufted Sand Verbena (Abronia bigelovii) on Zia Pueblo Lands in Sandoval County, New Mexico. Unpublished report prepared by EMNRD-Forestry Division, Santa Fe, NM for the U.S. Fish & Wildlife Service, Region 2, Albuquerque, NM. 29 pp.
Roth, D., and R. Sivinski. 2015. Survey and status report for rare gypsophilic plants in the Ojito/White Mesa area of Sandoval County, New Mexico. Unpublished report prepared by the NM Energy, Minerals, and Natural Resources Department, Forestry Division, for the BLM Rio Puerco Field Office, Albuquerque, NM.
Weber, R.H. and F.E. Kottlowski. 1959. Gypsum resources of New Mexico. Bulletin 68, New Mexico Institute of Mining and Technology, Socorro, New Mexico.
Information Compiled By
Robert Sivinski 2007; updated 2021
For distribution maps and more information, visit Natural Heritage New Mexico