Cymopterus spellenbergii (Taos springparsley)
Common Name
Taos springparsley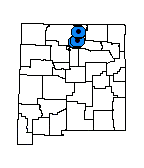 Description
Taprooted, acaulescent, tufted, herbaceous perennial; leaves 1 or more times pinnately compound, ovate or broadly ovoid in outline, 2-6 cm wide, 4-8 cm long, glabrous or minutely scabrous on margins, petioles 1-10 cm long, leaflets sessile, filiform to narrowly linear, ascending, 0.5-7 cm long, often opposite on rachis; inflorescences 1-5(-11+) per plant, peduncles (4-)7-40 cm long, glabrous except sparsely to moderately puberulent at apex with minute peg-like hairs appearing glandular, each peduncle terminated by a convex to globose congested umbel, 2-3.5 cm wide, involucre absent, rays 6-24, 3-8 mm long, lengthening slightly in fruit, umbellets of 4-13 flowers, involucel of 5-7 linear, entire bractlets, 1-3 mm long, pedicels 1-1.5 mm long, to 3 mm long in fruit; flowers yellow, fading to pale yellow or white, sepals 0.2-0.4 mm long, petals 1-1.2 mm long; fruits tan, terete to somewhat dorsally compressed, broadly ovoid to oblong, not constricted at commissure, 4.8-5.2 mm long, 2.7-2.8 mm wide on commissure, dorsal wings straight, smooth, prominently corky, edges acute to rounded, wedge-shaped to truncate-ovate in cross section, 0.5 mm wide at base, 0.6-0.8 mm tall, the lateral ones often the tallest; mericarps with commissure planar to curved adaxially from the two ends, often with central groove or even cupulate due to enlargement of wings, oil tubes 1 per interval, 2 on commissure, forming ribbons about 0.3 mm wide. Flowers late April to late May; fruits mid May to early July.
Similar Species
Cymopterus sessiliflorus is vegetatively almost identical, but has fruits with membranous wings. All other species of Apiaceae in New Mexico with linear leaflets have at least 1 or 2 stem leaves.
Distribution
New Mexico: Rio Arriba and Taos counties.
Habitat
This plant usually grows among basalt boulders that cover much of the Taos Plateau and form caprock along canyons rims. It occasionally grows in soils derived from metamorphic rock or in sandy draws. The plant community is open piñon-juniper woodland or Douglas fir-ponderosa pine forest at elevations of 1,890-2,680 m (6,200-8,800 ft).
Remarks
This species is named for Richard Spellenberg of New Mexico State University who discovered it in 1978 and sent it to Ronald Hartman at the University of Wyoming for identification. Formal recognition was delayed until enough material could be collected to fully understand its variation and distribution. It was included in Cymopterus sessiliflorus in the past. Cymopterus sessiliflorus occurs to the west of C. spellenbergii and is disjunct by about 35 miles.
Conservation Considerations
Impacts of grazing, vegetation treatments, and fire have not been studied. Forest thinning efforts may impact plant populations. Populations should be experimentally treated and closely monitored to inform management prior to initiating widespread treatment prescriptions; otherwise, populations should be avoided until more is known.
Important Literature
Hartman, R.L. 2006. New combinations in the genus Cymopterus (Apiaceae) of the southwestern United States. Sida 22(2):955-957.
*Hartman, R.L. and J.E. Larson. 2011. Cymopterus spellenbergii (Apiaceae), a new species from north central New Mexico, U.S.A. Journal of the Botanical Research Institute of Texas 5(1):33-40.
Information Compiled By
Charlie McDonald 2012; last updated 2018
For distribution maps and more information, visit Natural Heritage New Mexico