Astragalus gypsodes (Gypsum milkvetch)
Common Name
Gypsum milkvetch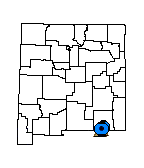 Description
Perennial; stems stout, ascending, often purplish tinged; leaves pinnately compound, mostly 15-29 foliate, 4-18 cm long; leaflets 5-20 mm long, elliptic to ovate, flat, pubescent on both surfaces, hairs straight, lying flat against the leaf surface; racemes 10-30 flowered; flowers pea-like, 16-24 mm long; petals pinkish-purple when fresh, drying bluish; pods spreading or ascending, oblong, usually straight and plump, 25-50 mm long, 2-chambered, becoming thick, spongy, and bright red when ripe. Flowers March to May.
Similar Species
This is the only milkvetch with pinkish-purple flowers and large, thick, bright red pods that grows on gypsum soils.
Distribution
New Mexico, Eddy County, Yeso Hills; adjacent Texas.
Habitat
Gypseous soils in Chihuahuan desert scrub; 1,050-1,125 m (3,500-4,000 ft).
Remarks
Endemic to the gypsum flats and low gullied gypseous hills of the Permian-aged Castile Formation. It is locally abundant in some places. This species frequently colonizes areas where soil has been disturbed, such as roadsides. It blooms in early spring with an abundance of purple flowers. The thick, bright-red pods are striking when they mature.
Conservation Considerations
Not significantly threatened by the current land uses within its habitats. County road and state highway projects could remove some plants. Gypsum mining is a minor potential threat, if conducted on a large scale.
Important Literature
*New Mexico Native Plants Protection Advisory Committee. 1984. A handbook of rare and endemic plants of New Mexico. University of New Mexico Press, Albuquerque.
Barneby, R.C. 1956. Pugillus Astragalorum XVII. American Midland Naturalist 55:499-500.
Isely, D. 1998. Native and naturalized Leguminosae (Fabaceae) of the United States. Monte L. Beane Life Science Museum, Brigham Young University, Provo, Utah.
Information Compiled By
Ken Heil, Joey Herring 1999
For distribution maps and more information, visit Natural Heritage New Mexico