Astragalus knightii (Knight's milkvetch)
Common Name
Knight's milkvetch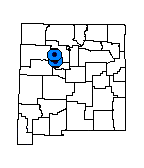 Description
Tufted perennial herb; stems numerous, ascending, 1-5 cm long, arising from a taproot; herbage gray-strigose with dolabriform hairs; stipules of the lower nodes connate; leaves pinnately compound, 2.5-8.5 cm long; stalks long, wiry, and sometimes persistent on the caudex; leaflets 9-15, narrowly elliptic or ovate-elliptic, 2-8 mm long; calyx 3-4 mm long, bell-shaped; petals whitish, lilac-tinged along the margins, lower petal purple tipped, banner bent upward 45 degrees, 5-6 mm long; pods pendulous, narrowly obovoid-ellipsoid, turgid or almost bladdery, 8-14 mm long, 4-6 mm wide, red spotted. Flowers May to early June.
Similar Species
Astragalus ceramicus can be distinguished from A. knightii by the presence of thread-like rhizomes and the absence of a taproot.
Distribution
New Mexico, Sandoval County, middle Rio Puerco Valley.
Habitat
Rimrock ledges of Dakota Formation sandstone in juniper savannah and grassland; 1,750-1,800 m (5,700-5,900 ft).
Remarks
Presently known only from the Mesa Prieta area of the middle Rio Puerco drainage. The specific epithet honors Paul Knight who discovered this species while working as a botanist for the State of New Mexico.
Conservation Considerations
Some populations are small and could be seriously impacted by road development, pipelines and mining activities. 
Important Literature
*New Mexico Native Plants Protection Advisory Committee. 1984. A handbook of rare and endemic plants of New Mexico. University of New Mexico Press, Albuquerque.
Barneby, R.C. 1983. A new Astragalus from sandstone rimrock in New Mexico. Brittonia 35:109-110.
Isely, D. 1998. Native and naturalized Leguminosae (Fabaceae) of the United States. Monte L. Beane Life Science Museum, Brigham Young University, Provo, Utah.
Information Compiled By
Ken Heil, Joey Herring 1999
For distribution maps and more information, visit Natural Heritage New Mexico