Astragalus puniceus var. gertrudis (Taos milkvetch)
Common Name
Taos milkvetch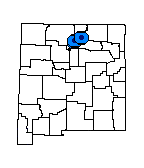 Description
Rhizomatous perennial from subterranean crown; stems several, to 5 dm long, decumbent and radiating, branching from lower nodes, forming broad, depressed clumps; herbage greenish-gray; lower stipules connate; leaves 2.5-10 cm long; leaflets numerous, villosulous; inflorescence relatively dense, produced within or slightly above the foliage; flowers usually numerous, ascending becoming horizontal; calyx tube 5-8 mm long, lobes 2-3 mm long; corolla 13-19 mm long, banner pale pink; pods spreading or reflexed, sessile or nearly so, oblong, moderately incurved, terete or slightly obcompressed, 1.5-2.5 cm long 5-9 mm in diameter, turgid, valves initially fleshy, becoming leathery, villosulous, usually not mottled, unilocular, persistent, deciduous, dehiscent. Flowers May and June.
Similar Species
Astragalus puniceus var. gertrudis is closely related to A. puniceus var. puniceus and A. hallii var. hallii. The banner petals of A. puniceus var. puniceus are bright pink-purple versus whitish, tinged with pink-purple in var. gertrudis. The pods of var. puniceus are nearly always brightly red-mottled versus usually not mottled in var. gertrudis, and the vestiture of the stems and herbage of var. gertrudis is similar (villosulous) whereas in var. puniceus the stem hairs are appressed (strigose) and the herbage is villous. In A. hallii var. hallii, the pods are papery whereas they are fleshy and thicker-walled in var. gertrudis.
Distribution
New Mexico, southern Taos and southeastern Rio Arriba counties.
Habitat
Dry banks and gravelly benches among piñon and junipers, 1,800-2,150 m (6,000-7,000 ft).
Remarks
The morphological differences between var. puniceus and var. gertrudis are slight. Populations of var. puniceus occur in northeastern New Mexico and are separated from var. gertrudis by the Sangre de Cristo Mountains.
Conservation Considerations
Additional field surveys are needed to determine the distribution, population densities and potential threats to var. gertrudis. Voucher specimens should be deposited in regional herbaria to assist in future taxonomic assessments of this taxon.
Important Literature
*New Mexico Native Plants Protection Advisory Committee. 1984. A handbook of rare and endemic plants of New Mexico. University of New Mexico Press, Albuquerque.
Barneby, R.C. 1964. Atlas of North American Astragalus. Memoirs of the New York Botanical Garden 13:1-1188.
Isely, D. 1998. Native and naturalized Leguminosae (Fabaceae) of the United States (exclusive of Alaska and Hawaii). Monte L. Bean Life Science Museum, Brigham Young University, Provo, Utah.
*Ecosphere Environmental Services, Inc. 1995. The Farmington District endangered, threatened and sensitive plant field guide. Bureau of Land Management, Farmington District, Farmington, New Mexico.
Information Compiled By
David Bleakly 1999
For distribution maps and more information, visit Natural Heritage New Mexico