Aliciella formosa (Aztec gilia, beautiful gilia)
Common Name
Aztec gilia, beautiful gilia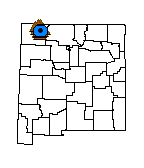 Description
Perennial, 7-30 cm tall, older plants woody at the base, glandular; stems numerous, branched; leaves entire, 25 mm long, sharp-pointed; flowers pinkish-purple, trumpet-shaped, about 22 mm long. Flowers April and May.
Similar Species
Aliciella formosa is a perennial with a woody base and entire leaves. Aliciella haydenii and A. subnuda have herbaceous stems and pinnatifid leaves.
Distribution
New Mexico, San Juan County, near Aztec and Bloomfield.
Habitat
Salt desert scrub communities in soils of the Nacimiento Formation; 1,500-1,950 m (5,000-6,400 ft).
Remarks
Aliciella formosa is only found growing in soils derived from the Nacimiento Formation and is often found with Sclerocactus cloveriae ssp. brackii, another rare plant found in San Juan County.
Conservation Considerations
Aliciella formosa occurs in an area of intense oil and gas exploration and development. A recent status report documented significant declines in plant numbers from historic records. This plant does not transplant well and is difficult to raise from seed.
Important Literature
*New Mexico Native Plants Protection Advisory Committee. 1984. A handbook of rare and endemic plants of New Mexico. University of New Mexico Press, Albuquerque.
Porter, J.M. 1998. Aliciella, a recircumscribed genus of Polemoniaceae. Aliso 17(1):23-46.
Roth, D., and R. Sivinski. 2018. Status report Aztec gilia (Aliciella formosa), San Juan County, New Mexico. Unpublished report prepared by the NM Energy, Minerals, and Natural Resources Deparment, Forestry Division, Santa Fe NM, for the U.S. Fish & Wildlife Service, Region 2, Albuquerque, NM.
Information Compiled By
Ken Heil, Joey Herring 1999; last updated 2018
For distribution maps and more information, visit Natural Heritage New Mexico