Lorandersonia microcephala (Small-headed goldenweed)
Synonyms
HAPLOPAPPUS MICROCEPHALUS CRONQUIST; TONESTUS MICROCEPHALUS (CRONQUIST) NESOM & MORGAN; ERICAMERIA MICROCEPHALA (CRONQUIST) KARTESZ & GANDHI
Common Name
Small-headed goldenweed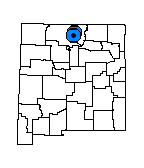 Description
Perennial; stems several, to about 5 cm tall, suffrutescent and mat forming; leaves numerous, 2-4 cm long, to 3.5 mm wide, oblanceolate, tips acute, tapering to the base, 3-nerved, entire or with an occasional minute tooth, stem leaves somewhat smaller than the basal ones; heads several to many in a condensed corymb; phyllaries chartaceous, in several series, the outer one caudate-attenuate, the inner ones acute or acuminate; disk flowers yellow, fertile, rays inconspicuous; pappus of numerous white capillary bristles. Flowers June to July.
Similar Species
Petradoria pumila (syn. Solidago petradoria) bears a strong habital resemblance to Lorandersonia microcephala. The Petradoria is distinguished by its obviously punctate leaves, vertically aligned phyllaries, and sterile disk flowers.
Distribution
New Mexico, eastern Rio Arriba and western Taos counties.
Habitat
Granitic rock crevices in open ponderosa pine forests; 2,440-2,600 m (8,000-8,500 ft).
Remarks
This species is locally abundant within its limited range between Tres Piedres and Petaca, New Mexico.
Conservation Considerations
The bare, rock face habitats of this species offer a great deal of protection from human and forest fire impacts.
Important Literature
*New Mexico Native Plants Protection Advisory Committee. 1984. A handbook of rare and endemic plants of New Mexico. University of New Mexico Press, Albuquerque.
Cronquist, A. 1951. A new Haplopappus from New Mexico. Madroño 11:186-187.
Lightfoot, K. and R. Sivinski. 1992. Status report on Tonestus microcephalus. For: U.S. Fish and Wildlife Service, New Mexico Ecological Services Field Office, Albuquerque.
Urbatsch, L.E., R.P. Roberts and K.M. Neubig. 2005. Cuniculotinus and Lorandersonia, two new genera of Asteraceae: Astereae and new combinations in Chrysothamnus. Sida 21(3):1615-1632.
Kartesz, J.T. 1994. A synonymized checklist of the vascular flora of the United States, Canada, and Greenland. Second edition. Timber Press, Portland, Oregon.
Nesom, G.L. and D.R. Morgan. 1990. Reinstatement of Tonestus (Asteraceae: Astereae). Phytologia 68:174-180.
Information Compiled By
Ken Heil, Joey Herring 1999, last updated 2008
For distribution maps and more information, visit Natural Heritage New Mexico