Erigeron sivinskii (Sivinski's fleabane)
Common Name
Sivinski's fleabane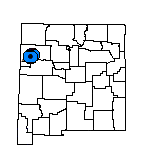 Description
Perennial herb arising from a thick taproot with numerous, short (1-3 cm), ascending-erect caudex branches, the upper portion of these with persistent old leaf bases; stems erect, 5-8 cm tall, unbranched, green, sparsely short-strigose with white, stiff, closely appressed trichomes, evenly distributed, even in length, 0.2-0.3 mm long; leaves green, similar in vestiture to the stems, arising in dense basal clusters from the caudex apices, erect to ascending, linear, 9-34 mm long, 0.5-0.8 mm wide, thickened, slightly flaring at the very base; stem leaves strictly ascending and continuing relatively unreduced in size half way to nearly all the way up the stems; heads solitary, terminal, involucre cup-shaped, 10-14 mm wide (pressed); phyllaries in 2-3 subequal series, 5-7 mm long, narrowly lanceolate with attenuate-filiform apices, minutely but prominently granular-glandular, the outer also sparsely pilose with a few crisped-spreading hairs arising centrally; ray florets 21-33, the corollas 7-10 mm long, 1.0-2.4 mm wide, white, drying pinkish, distinctly coiling from the apices with maturity; disk corollas 3.6-4.2 mm long, narrowly funnelform, glabrate; style branches 0.5-0.6 mm long, the collecting appendages deltate to shallowly triangular, 0.1-0.2 mm long; achenes 2(-3) nerved, narrowly oblong, 2.8-3.1 mm long, the faces glabrous, the margins sparsely ciliate; pappus of 20-27 barbellate bristles. Flowers primarily in May and June.
Similar Species
Erigeron sivinskii has stem leaves (generally between 5 and 8), distinguishing it from E. compactus var. consimilis which has no (or few) stem leaves. Erigeron sivinskii has glabrous achene faces, distinguishing it from E. pulcherrimus and E. bistiensis, both of which have densely strigose-sericeus achene faces.
Distribution
New Mexico, McKinley County; adjacent Arizona, Apache County.
Habitat
Chinle shale in piñon-juniper woodland and Great Basin desert scrub; 1,850-2,250 m (6,100-7,400 ft).
Remarks
This species may be only varietally distinct from Erigeron compactus var. consimilis. The relationships of E. compactus, E. bistiensis, E. pulcherrimus, and E. sivinskii are in need of further study.
Conservation Considerations
This plant is relatively abundant within its habitats. These areas are barren shale slopes that prevailing land uses do not significantly impact.
Important Literature
Nesom, G.L. 1991. A new species of Erigeron (Asteraceae: Astereae) from northwestern New Mexico. Phytologia 71(5):416-419.
Tonne, P. 1999. A morphometric analysis of Erigeron pulcherrimus, Erigeron bistiensis, and related Erigeron species. Unpublished Masters Thesis, University of New Mexico, Albuquerque.
Information Compiled By
Phil Tonne 1999
For distribution maps and more information, visit Natural Heritage New Mexico