Amsonia fugatei (Fugate's amsonia)
Common Name
Fugate's amsonia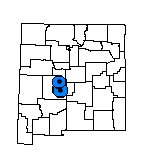 Description
Herbaceous perennial from a woody caudex; stems sparsely pubescent, 30-50 cm long; leaves glabrous, the lower elliptic to lanceolate, 6-10 mm wide, the upper linear, 1 mm broad; calyx lobes awl-shaped, glabrous or sparsely ciliate, 5-6 mm long; corolla tube 16-20 mm long, broadest at the apex, moderately constricted at the orifice; corolla lobes ovate-acute, cream-colored, 7-10 mm long; fruit two narrow follicles 3-6 cm long; seeds cylindrical, corky, 8-10 mm long. Flowers April and May.
Similar Species
This species is similar to A. longiflora of southern New Mexico and A. grandiflora of southern Arizona. It is distinguished from these two species in having glabrous, lanceolate leaves and pubescent stems. It also has broader leaves and corolla lobes than A. longiflora.
Distribution
New Mexico, Socorro County.
Habitat
Limy conglomerate ridges and associated outwash slopes in Chihuahuan desert scrub; 1,500-1,800 m (5,000-5,900 ft).
Remarks
The specific epithet fugatei honors naturalist Paul Fugate who disappeared from the Chiricahua National Monument in southeastern Arizona in 1980 and is presumed dead.
Conservation Considerations
Fugate's amsonia is not palatable to the kinds of livestock presently occupying the area. Populations are small and localized, and individually may be severely impacted by human activity.  At least one of the 3 known populations is located along and within a two-track dirt road. Road maintenance activities could significantly impact this population.
This plant is being grown at the Rio Grande Botanic Garden in Albuquerque for display, public education, research, and conservation of the wild populations.
Important Literature
Cully, A.C. and P.J. Knight. 1987. Status report on Amsonia fugatei. Report submitted to U.S. Fish and Wildlife Service, New Mexico Ecological Services Field Office, Albuquerque.
McLaughlin, S.P. 1985. A new species of Amsonia (Apocynaceae) from central New Mexico. Southwestern Naturalist 30(4):563-565.
Information Compiled By
Ken Heil, Joey Herring 1999; last updated 2009
For distribution maps and more information, visit Natural Heritage New Mexico