Helianthus arizonensis (Arizona sunflower)
Common Name
Arizona sunflower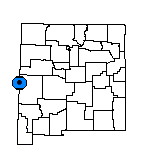 Description
Herbaceous perennial with long creeping roots that function like rhizones; stems glabrous, glaucous, 20-30 cm tall; leaves opposite, sessile, lanceolate, 6-7 cm long, 1.0-1.3 cm wide, tip acute, margins undulate, surface glabrous and glaucous, bluish-green; heads one to few; disk 1.0-1.8 cm in diameter; phyllaries lanceolate, ciliate on margins, glabrous to puberulent on backs, 2.0-2.7 mm broad; rays yellow, few, small; disk corollas yellow; pales acute, entire; pappus of 2 ovate scales; achenes about 3 mm long. Flowers June through August.
Similar Species
Helianthus ciliaris (blueweed) also has stems and leaves that are glaucous and bluish-green, but it is usually 40-70 cm tall and its disk corollas are red or reddish-tipped. Helianthus laciniatus has stems that are usually hispid or strigose and leaves that are glabrous to strigose and ashy green to light green in color.
Distribution
New Mexico, Catron County, west of Quemado; Arizona, Coconino and Navajo counties.
Habitat
Dry, frequently sandy soil at 1,200-2,100 m (4,000-7,000 ft).
Remarks
The rare Helianthus arizonensis is a diploid species (n=17) while the closely related and common H. ciliaris is tetraploid (n=34).
Conservation Considerations
This species is poorly known. Additional field searches are needed to determine range, abundance, habitat, reproduction and other important biological parameters.
Important Literature
*Heiser, C.B., D.M. Smith, S.B. Clevenger and W.C. Martin. 1969. The North American sunflowers (Helianthus). Memoirs of the Torrey Botanical Club 22(3):1-220.
Jackson, R.C. 1963. Cytotaxonomy of Helianthus ciliaris and related species of the southwestern U.S. and Mexico. Brittonia 15:260-271.
Information Compiled By
Charlie McDonald 1999
For distribution maps and more information, visit Natural Heritage New Mexico