Cirsium gilense (Gila thistle)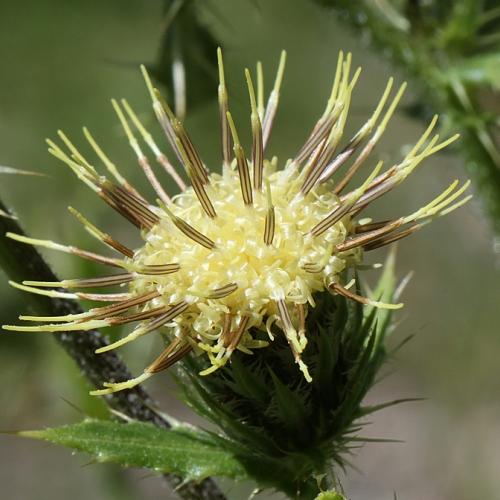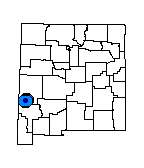 Description
Biennial; stems up to 2 m tall, sparingly branched, hairy; leaves about 40 cm long, pointed at the tip, lobed, the lobes toothed, teeth tipped with slender spines, upper surface of the leaves hairy, lower surface without hairs; the base of the stem leaves partly surrounding the stem; flower heads greenish-yellow usually solitary at the ends of the branches, about 3 cm broad, and nearly as high; outer bracts of the flower head with cobwebby hairs and numerous small, spiny teeth of even length along the margins, much like that of a comb. Flowers July to September.
Similar Species
Cirsium gilense can be differentiated from any other yellow-flowered thistles in New Mexico by flowering heads that are at least 3 cm high and are solitary at the ends of branches. The bracts of the heads have broad green tips.
Distribution
New Mexico, Catron County; adjacent Arizona, White Mountains.
Habitat
Moist areas or mountain meadows in montane coniferous forest; 2,135-2,440 m (7,000-8,000 ft).
Remarks
This taxon, along with all other yellow-flowered thistles of the Southwest, needs further study to clarify species boundaries.
Conservation Considerations
All native thistles could potentially be impacted by exotic biological control agents imported to combat noxious exotic thistles.
Important Literature
*New Mexico Native Plants Protection Advisory Committee. 1984. A handbook of rare and endemic plants of New Mexico. University of New Mexico Press, Albuquerque.
Wooton, E.O. and P.C. Standley. 1913. Descriptions of new plants preliminary to a report upon the flora of New Mexico. Contributions from the U.S. National Herbarium 16:109-196.
Roth, D. 2016. Wildfire Impacts on Species of Concern Plants in the Gila National Forest, New Mexico. Unpublished report prepared by EMNRD-Forestry Division, Santa Fe, NM for the U.S. Fish & Wildlife Service, Region 2, Albuquerque, NM. 48 pp.
Information Compiled By
Patricia Barlow-Irick 1999; updated 2016
For distribution maps and more information, visit Natural Heritage New Mexico