Agastache pringlei var. verticillata (Organ Mountains giant hyssop)
Synonyms
AGASTACHE VERTICILLATA WOOTON & STANDLEY
Common Name
Organ Mountains giant hyssop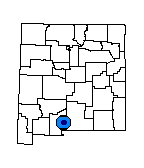 Description
Profusely branched, erect perennial, woody only at very base; stems 20-80 cm long; leaves triangular-ovate or triangular-lanceolate, 1-2.5 times longer than wide, 5-40(80) mm long, dull to bright green above, paler below, thinly pubescent; flowers pink or dull rose-purple, 6-9 mm long, in whorls in interrupted spikes, zygomorphic, petals 5, fused into a tube, the two small upper petals extending forward much like the visor of a cap, the three larger lower petals forming a reflexed lip; fruit dividing into 4 dark nutlets each about 1-1.5 mm long. Flowers August to October.
Similar Species
There are several species of Agastache in New Mexico that are distinguished by technical characteristics. Agastache pringlei var. verticillata has the following combination of characteristics: stems herbaceous except at the very base; leaf blades thin and flexible; pedicels less than 1.2 mm long; calyx tube longer than 3 mm and less than 1.5 mm in diameter; calyx tube at time of flowering slightly wider at opening than at base, the axis straight, but in fruit the base swollen and wider than the opening; and corolla tubes less than 8.3 mm long.
Distribution
New Mexico, Dona Ana County, Organ Mountains.
Habitat
Humus-covered igneous talus and boulders at protected bases of steep cliffs in woodlands of Douglas fir, yellow pine, and Gambel oak; 1,800-2,300 m (5,900-7,500 ft).
Remarks
Agastache pringlei is a bicentric species with the nominate variety (var. pringlei) known from scattered localities in western and southern Chihuahua, Mexico. Sanders (1987), who merged A. verticillata as a variety in A. pringlei, records the var. verticillata only from the Organ Mountains. Martin and Hutchins (1981) record the taxon (as A. verticillata) as restricted to the mountains of southern New Mexico, their interpretation of range probably relying on that of Wooton and Standley (1915). Wooton and Standley, the authors of the name A. verticillata, believed the species to occur in the Organ and Mogollon mountains.
Conservation Considerations
This variety is a narrow endemic. Its habitat, while not rare in the Organ Mountains, is restricted, but mostly lies away from human-induced disturbance.
Important Literature
Martin, W.C. and C.R. Hutchins. 1981. A Flora of New Mexico, vol. 2. J. Cramer, Vaduz.
*Sanders, R.W. 1987. Taxonomy of Agastache section Brittonastrum (Lamiaceae-Nepeteae). Systematic Botany Monographs 15:1-92.
Wooton, E.O. and P.C. Standley. 1915. Flora of New Mexico. Contributions from the U.S. National Herbarium 19:1-794.
Information Compiled By
Richard Spellenberg 1999
For distribution maps and more information, visit Natural Heritage New Mexico