Hieracium brevipilum (Mogollon hawkweed)
Synonyms
HIERACIUM FENDLERI SCHULTZ-BIPONTINUS VAR. MOGOLLENSE A. GRAY
Common Name
Mogollon hawkweed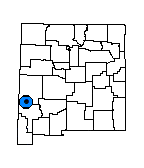 Description
Perennial; stems subscapose, to 30 cm tall, short-hirsute; basal leaves spatulate to oblanceolate, short-hirsute, to 8 cm long and 18 mm wide, entire or minutely denticulate; stem leaves few, lanceolate, somewhat clasping the stem, reduced upward to linear bracts; inflorescence racemose-paniculate, the heads few, peduncles pilose-hirsute and glandular; heads oblong, involucres 9-10 mm high, pilose-hirsute and glandular, florets yellow; achenes 4.5-5 mm long, tapering from base to apex, reddish to nearly black; pappus usually bright white (rarely tawny). Flowers August and September.
Similar Species
Hieracium fendleri has broad basal leaves and usually no stem leaves. Hieracium crepidospermum lacks long non-glandular pilose hairs on the involucres. Hieracium absissum also lacks long pilose involucre hairs, has smaller heads, and shorter 2-3 mm long achenes.
Distribution
New Mexico, Catron County, Mogollon Mountains; Arizona, Apache County, White Mountains.
Habitat
Grassy openings in ponderosa pine forest and in mountain meadows; 2,500-3,200 m (8,200-10,500 ft)
Remarks
This species is rarely collected. It was collected and photographed in the Mogollon Mountains in August of 2008 and 2010, first in grassy openings of sparse ponderosa pine forest along Indian Creek, and then in a meadow near Center Baldy. The previous collections from these areas were made in 1967 along Indian Creek and in 1927 near Center Baldy. The plants along Indian Creek have some morphological characteristics that do not completely conform to the type specimens.
Conservation Considerations
This plant's response to forest fire appears to be positive. Additional field surveys are needed to clarify variability in this species and determine its abundance and habitat requirements.
Important Literature
Gray, A. 1883. Proceedings of the American Academy of Arts 19:69.
Greene, E.L. 1882. New western plants. Bulletin of the Torrey Botanical Club 9:62-65.
Flora of North America Editorial Committee. 2006. Flora of North America, volume 19. Oxford University Press, New York.
*Sivinski, R. 2009. Mogollon hawkweed (Hieracium brevipilum) status report. Section 6 Progress Report, Segment 23, for U.S. Fish and Wildlife Service, Southwestern Region, Albuquerque, New Mexico. 14 pp.
Roth, D. 2016. Wildfire Impacts on Species of Concern Plants in the Gila National Forest, New Mexico. Unpublished report prepared by EMNRD-Forestry Division, Santa Fe, NM for the U.S. Fish & Wildlife Service, Region 2, Albuquerque, NM. 48 pp.
Information Compiled By
Phil Tonne 1999; last updated, 2016
For distribution maps and more information, visit Natural Heritage New Mexico